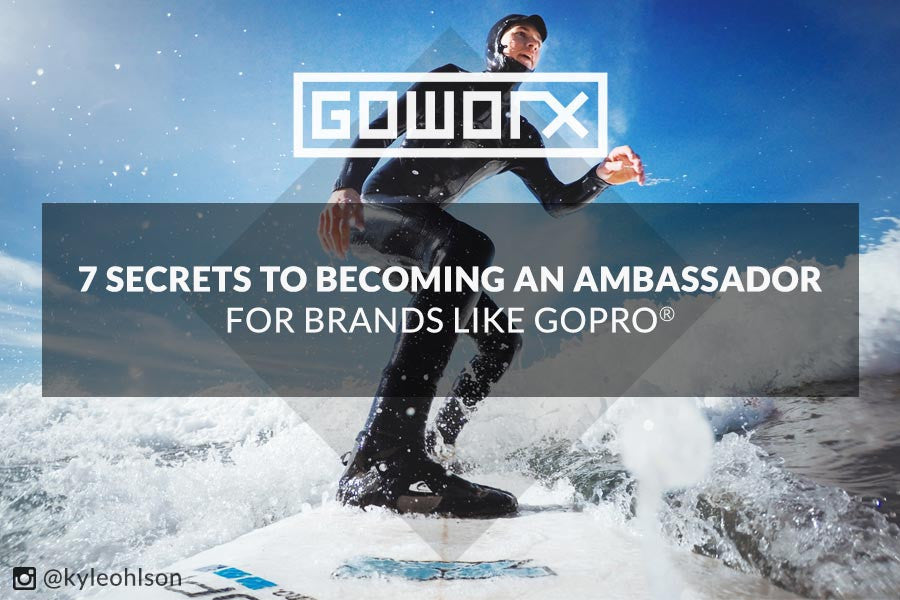 Do you want to learn how to become an ambassador for today's top brands and jumpstart your career in photography, videography or just awesome action and adventure content?
We recently chatted with a few professional content creators and asked how they established their relationships with GoPro and other top brands like LifeProof and Prana. Their answers were just too good not to share. So we took their advice and assembled it into 7 easy tips that will give you the tools to create better content, build brand relationships and acquire sponsors (...and hey, maybe even score some free gear!)
.....
How Did the Pros Do It?
So you've seen athletes, photographers and content creators become ambassadors for your favorite brands or become members of the GoPro family and now you want to get in on that sweet action. Well, how did they do it? We asked photographer and filmmaker Kyle Ohlson how he became a part of the GoPro Family. Here's his story:
"I always posted [GoPro] videos and photos to GoPro's Facebook page to show them what I used their camera for and how fun and easy their camera is to use. After some time the one girl who ran all of their social media at the time (Pilar Woodman) sent me a message saying they like the content I was posting and she sent me a HERO2 a couple weeks after it was released. I was super stoked and started to shoot all sorts of random stuff with it and always posted it to their Facebook wall.
Ever since then my relationship with GoPro keeps growing. I am so lucky to be apart of the epic GoPro family. It's been crazy to think how far they have come and what they have done since 2010. I was their 23rd follower on Instagram and now they have over 8 million followers."
That's it? Really? Well, in the years since Kyle became a part of the GoPro family in 2010, the company has grown exponentially. Today, you can't just post a few videos and expect a free GoPro. But fortunately, for most of the smaller, up-and-coming brands, the basic selection process hasn't changed:
Create killer content

Get a brand/company to notice it

Join brand membership/ambassador program
For GoPro and other major brands, #2 has become more challenging. That's why this guide focuses on building relationships with more accessible brands that help improve your content, expand your audience and pave the way to your bigger brand sponsorship goals. But we're getting ahead of ourselves. First and foremost, you absolutely MUST…
1. Create Killer Content
This is the big one. If you want to get recognized for your photo and video, the first step is to make sure your content is really top notch. We're not talking about cool…we're talking about imagery that stirs people to their core. Here are a few pointers to help you tighten up your content:
Find Your Niche…Whatever you do, be you. Be authentic. No one in the world sees things quite like you do. No one else in the world can create what you are capable of creating. "Be unique, have consistency, only create and share quality content. Ask yourself, would YOU yourself want to watch/look at something like this..." – Atom the Pug (@atomthepug)
If your niche isn't immediately obvious, take Adventurer Calvin Young's advice and spend some time researching and trying different types of content. Then stick with what works:
"For any amateur content creator, what I learned from my journey is that it's okay to continue trying all types of content as long as you get an opportunity to identify which content your audience likes the best. […] It's pretty easy, all you need to do is to research which keywords that were searched the most, then go with it. Not only that, you can open yourself to hear what your audience wants, and make some adjustments." – Calvin Young (@calvinexplores)
Or you could be like GoWorx Ambassador Tim Mathews (@timthetoothninja) and take a more strategic approach:
"I followed every GoPro account that I could to see what people were doing with their GoPros and to see how I could come up with my own original GoPro content. I think I was able to do that with the unusual combination of dogs, Alaska, and the Northern Lights." – Tim Mathews
Brush Up on Your Photography Skills…Take a class or at least familiarize yourself with the basic elements of composition. Educate yourself on color theory, lighting techniques and advanced camera settings like shutter speed, ISO and white balance, which can all vastly expand your range as a photographer. "I truly do look at the quality of the picture to see if it's going to be good enough, i.e. lighting, color, framing, quality of the content." – Tim Mathews
In addition to stepping up your technical skills, experiment with new angles and perspectives at every opportunity. A trusty toolkit of mounts, poles, handles and GoPro accessories will further expand your creativity, encouraging never-before-seen angles and imagery that will truly captivate your audience. To find more interesting ways of capturing your world, check out our carefully curated collection of GoPro, Drone and Mobile Gear on GoWorx. All of our gear was designed or handpicked to stoke your creativity and inspire killer content.  
These tips also apply to videography, where you can incorporate high-speed (or slow-motion) action, multiple perspectives, never-before-seen angles and countless other elements to create your own style. "…I only think 'how can I make what I'm about to film different than anyway I've seen this captured before'. And with that mindset I usually can think of some little things to make what I'm about to capture stand out. I just try to focus on doing it in a way that's never been seen before." – Kyle Ohlson
Tell a Story…Whether it's implied within your photo/video or your personal story as an aspiring photographer, your audience craves something deeper within your content. That's what keeps them coming back and following your adventures…
"What [Brands/Companies] want is to find people with an interesting story because it's what the most customers want to hear. They need to be empowered. They need to be inspired. I always share the story about myself as a deaf traveler who continues traveling all over the world, defeating numerous oppressions, breaking barriers, and making the best out of my trip. I show them that I'm more than just a traveler. It inspires them. It's what they want the most." – Calvin Young
But don't forget to have fun with it…
"Lastly but MOST importantly…you have to tell a story within your content, whether it be a dog chasing a stick to [a parrot] cooking dinner." – Atom the Pug
The More You Get, The More You Get…When you're gathering the raw materials for your epic reels and Instagram page, the more you have to work with when you get to the edit stage, the greater the odds you'll have a few bangers that really impress your audience.
"Going through all the 2,000 images you shoot on a pow day is a large part of selecting the best share­worthy media. It takes some time, but having a good workflow can really save time when it comes to finding the best picture out of the 2,000 you shot." – Kyle Ohlson
Edit for Success…Last but not least, editing is a vital step to creating incredible content, whether you're distilling down hours of GoPro footage or brushing up the color in your photos. Get your hands on whatever editing software you can find to put the final touches on your photo or footage. Editing is an art in itself, and the more you master it, the more you will be able to produce stunning content.
2. Live the Brand
If you're looking to become a brand ambassador, whether for GoPro, GoWorx or Prana, you'd better be a devoted advocate for that brand. BUY their gear, refer and educate your social media followers on the brand and use your content to show that you're living the brand's mission.
At the same time, be on the lookout for brands that share similar values and vibes as your content. You might be surprised with what you find and how willing they are to collaborate.
"Prana loves the fact I've been traveling all over the world and sharing nature photos constantly. It's fitting the message they're sending to their customers. It's about your work and what you do. Don't bother to contact any brand that does not fit what you do because they'll decline you flatly." – Calvin Young
3. Know Thy Gear
If you want to create killer content, it is absolutely essential to know your gear inside and out; that includes your DSLR camera, drone, smartphone, GoPro HERO camera or any number of accessories you use to enhance your content capture. For the experts, gear knowledge begins before a purchase with hours of research to find the right camera gear or accessory.
"It's incredibly important to fully understand the gear you are buying to use for productions. […] I recommend researching, reading lots of reviews and also watching review videos, before you purchase the product. And, once you have the product in hand, test it out several times before you go out to film and rely on the product to help you capture epic content." – Kyle Ohlson
We have done our best to make that gear research process easier for you. At GoWorx.com, our detailed product pages, customer reviews, buyer's guides and gear experts can help you find what you need to take your content to the next level. Besides, we hand selected the very best GoPro, Drone and Mobile Gear and stand behind it with our 100% Gear Guarantee, so you don't have to sift through thousands of cheap knock-offs to find what you want. And if you have questions about how to use a product (whether you buy it or not), we'll be stoked to give you the best gear advice possible. In other words, in your journey to obtaining ninja-level gear knowledge, GoWorx is your dojo.
Also mission critical: a thorough knowledge of the gear and brand you wish to represent. If you want to become an ambassador for GoPro, KNEKT, GoWorx or (insert brand name)...you better know all there is to know about their gear:
"It's super important to understand and know all that you possibly could know about the brands that intrigue you. In Atom's case, we've learned all that we know now simply from truly being in love with the brand…if you will. Watching each and every single tutorial, GoPro edit and article on the face of the Earth has definitely played a HUGE roll in what we know today. Not to mention interacting with other users within the community. I must admit, I did learn TONS from my good friend Mitch Bergsma, the GoPro God!" – Atom the Pug
4. Start Small
Like we touched on in the beginning, becoming an ambassador for GoPro (or any major brand) probably won't be as easy for you as it was for Kyle Ohlson. It is certainly still possible, and GoPro is still actively seeking out content creators, adding a majority of their 475 Ambassadors in 2015 alone. But with millions of GoPro users in the world, it'll serve you best to have a strategy with greater odds of success. There are many accessible ambassador opportunities for photographers and filmmakers, you just have to cast a wider net in order to find them. Our advice: seek out up-and-coming brands that are on the hunt for like-minded, up-and-coming content creators like yourself.
In case you didn't know, GoWorx is an up-and-coming brand that collaborates with all types of content creators around the world...And our brand-new Lifetime Membership Program makes that collaboration easier than ever. All you do is sign up, pay a small one-time fee and you are set for life...
The GoWorx Lifetime Membership gives you:
Welcome Kit including a GoWorx T-Shirt, stickers and a free gift.
15% off all GoWorx brand products for life, so you can easily get your hands on the tools you need to create killer content.
Invitation to our Facebook Member's Lounge where you can instantly expand your audience and even get featured on our social media channels and GoWorx.com. It also provides a unique opportunity to collaborate with and learn from other content creators like yourself.
[BONUS] You'll get an invitation to the HookUp Rewards Program and automatic entry into every single GoWorx Giveaway...for LIFE!
Exclusive Members-Only Access to products and deals via email.
Most of all, the GoWorx Membership is an easy way for you to get involved with a growing brand. And it's not a huge jump to go from a devoted member to a full-fledged GoWorx Ambassador.  
Become a part of the GoWorx Crew with our exclusive membership…
Starting with up-and-coming brands like GoWorx is a great way to build up your resume, dial in your content and expand your audience before you go after the big dogs. If you can prove you are capable of maintaining a relationship with a smaller brand or company, larger brands will see that you're serious and you'll have a better shot at landing a spot as an ambassador for GoPro or (insert dream brand).
The biggest thing to remember is that this is a process. Good things take time, and brand relationships are no different. Be patient and stay true to your creative vision. For most people, working up to a GoPro Ambassador or family member takes years, so buckle down and get to work.
"If your content stands out it will be rewarded—trust us. This all doesn't happen overnight. In Atom the Pug's case, we had been filming and making crazy videos using GoPros ever since they released the "Hero," GoPro's first capture device […] It wasn't until last year that Atom caught a few eyes…once he started driving vehicles and getting himself well-known worldwide." – Atom the Pug
5. Engage in Social Media
The keyword here is engage. I think we all know the importance of social media, but you only get out of it what you put in. Reply to all comments, research and use effective hashtags, tag gear brands and, most importantly, be professional. Treat it like a business, because if you're successful at it, it will be your job.
[Follow GoWorx on Facebook, Instagram, YouTube, Twitter and Pinterest]
"Social media is the biggest tool for sure. Sometimes it can be tricky to get a brand to notice you and what you're doing, but providing links to your social media accounts can really help you out by letting them see what you do or if you are consistently out shooting or shredding enough that they would like you to use their product in your content." – Kyle Ohlson
"Find and set a goal for what you want to achieve with your social media outlet. […] Try to get your photos featured by other accounts. Usually this is done by tagging and targeting accounts that feature specific [types of] photos. The more exposure your photos have the more people will see and likely follow. Interaction is key. Comment back to your followers as much as possible. Interact with the other sites that you would like to get featured on. Like and interact with accounts that you aren't even necessarily following." 
– Tim Mathews
6. Build Your Audience
Everything we've covered so far will prepare you to build a far-reaching audience with your social media channels. Some key points to remember when building your audience: be unique with your content, continuously engage with your community (while seeking out new followers and collaborations) and get creative at any and every opportunity. Most importantly, remember to focus your main energy on making scroll-stopping content. That's what it's all about...
"It's not as easy as some people think it is. I would say don't ever focus on building a large audience on social media, it'll naturally come if you just go out there and film/produce the type of content you enjoy sharing. Try to focus on sharing things that haven't been seen before, or create something in hope to inspire others." – Kyle Ohlson
7. [Bonus] Build a Website
This one is a bonus, but it's damn-near mandatory for photographers…or really anyone who wants their portfolio to "pop" with big brands. It's so easy to create an online portfolio with Wix, Weebly, Squarespace, Pagecloud or any free website builder. Everyone should be doing it. With a website, you can post hi-res photos, your resume, links to all of your social media channels and have all of your media in one place, which makes it that much easier for brand scouts to see your potential. Plus, using your name as a domain name gives your portfolio a bit more professional credibility, which could be the extra bump you need to make the cut for your dream brand.
Now Go Get After It!
We hope this guide gives you the know-how and motivation to get out there and chase down your wildest creative ambitions. For us, that's the whole point...to inspire the world to get out there and capture life lived at its fullest. Helping our community grow their skills in photography and filmmaking is our MO, and we opened the GoWorx Store to further that mission by providing innovative GoPro, Drone and Mobile Gear that is sure to take your content to the next level.
.....
Our Expert Contributors
Kyle Ohlson (@kyleohlson) - GoWorx Ambassador
Kyle is a GoPro Brand/Photo Ambassador and an immensely talented photographer and filmmaker from Bend, OR. He has been in love with taking photos since he received his first camera in middle school. Since then he has been upgrading his gear, nailing photo gigs and turning heads in the industry with his compelling compositions and rad mountain edits.
Tim Mathews (@timthetoothninja) - GoWorx Ambassador
Tim is many things: dog lover, filmmaker, photographer, dentist…but he won us over with his breathtaking GoPro time-lapse shots of the Northern Lights. His home in Alaska gives him a front row seat to the atmospheric spectacle, but his ability to keep it fresh with fun photos of his pups and general Alaska awesomeness keeps his followers coming back.
Atom the Pug (@atomthepug)
Atom the Pug is a member of the GoPro Family and is the only pug we know that can drive a car. He first hit the scene in February 2015 and in that short time has blown up Facebook and Instagram thanks to furry appearances on CNN, Fortafy and The Chive. Atom the Pug partners with Feiyu Tech Gimbals, Drone World, Snake River Prototyping (camera filters), GoScope and a host of other brands.
Calvin Young (@calvinexplores) - GoWorx Ambassador
Calvin is a photographer, filmmaker, adventurer but above all a traveler. For the past few years he has criss-crossed the globe, shooting incredible adventure footage and empowering the deaf community. He'll tell you that anyone can travel, learn about themselves and be as adventurous as they want to be. Aside from his awesome photo and (sometimes hilarious) video, he has published some great travel resources and tips on his website. If you ever need to know the best places to bungee jump in New Zealand, Calvin is your man.