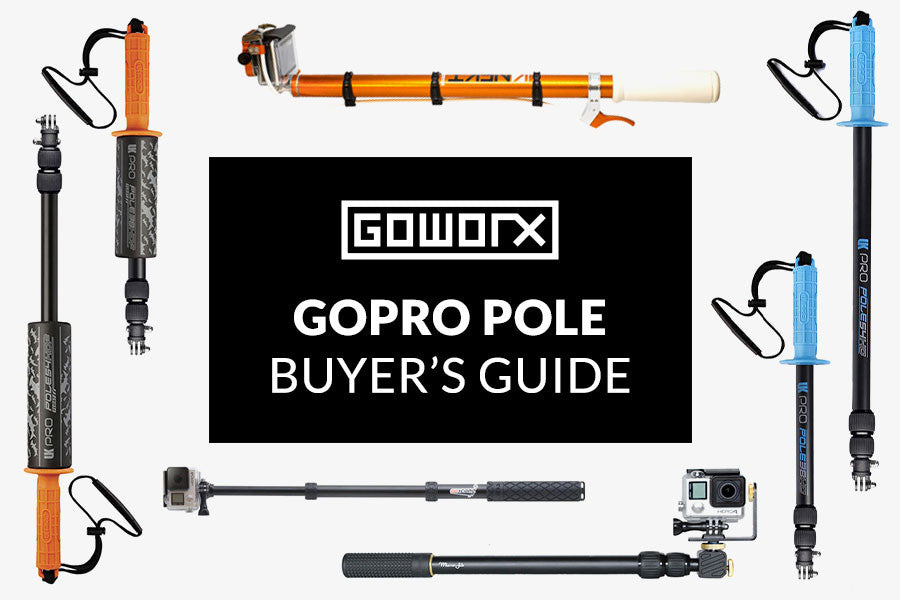 Capturing yourself in those amazing moments is always easier with a trusty GoPro pole by your side.
There are a lot of great GoPro Poles out there, so we created this GoPro Pole Buyer's Guide to help you navigate our always expanding selection of the world's best extension poles. We broke it down into three categories based on simplicity and features: Standard and Sturdy, Feature Packed, and Floating Poles, as well as a few complimentary products we think you'll love. Dive in and let us help you find the perfect GoPro pole for your adventure, whether you're catching swells in Maui, shredding pow in Squaw Valley, or exploring the urban jungle...
---
Category 1: Standard and Sturdy
These GoPro poles do exactly what they are supposed to do: free you up to take awesome footage with your GoPro. Let's take a look!
Rugged and Comfy: The Telescoping GoScope Boost GoPro Extension Pole is a solid, easy to use, sleek piece of hardware that lets you mount up to two GoPro HERO cameras while withstanding heavy snow, deep waters and everything in between. Extending up to 26", the aluminum body is crash- and adventure-proof, and the trusty wrist strap and grippy handle texture have us sold.
What We Love: This thing feels like a beast, is lightweight and has some cool features like a patented quick release mount and the capability to mount two cameras. Catching simultaneous forward-facing and self-facing views really lets you add new dynamics to your edits.
Get Boosted | 26 inch Boost Pole $39.99
---
Catch Every Angle: The UKPro HD series is as burly as it is simple...in the best way possible. The GoPro attachment point swivels 360 degrees, letting you dial in the absolute perfect shot. Extending this pole to its full 38 inches (or 54 inches depending on model) is quick and easy, so you can adjust your perspective in the middle of your pow run and even while still recording.
What We Love: It might look like you are wielding a sword, but the rad results speak for themselves. We dig the brightly colored handle on this GoPro pole because it looks cool and provides a comfortable, confident grip in or out of water. The UKPro HD series is easy to use, salt-water ready and will stand up to years of abuse while capturing your wildest moments.
---
Category 2: Feature Packed
These GoPro poles twist, pan and click. Take a look at the innovative pole designs on GoWorx.com
Look Ma, One Hand! Two full years in design, the expertly crafted KNEKT KTP18 is the world's first true one-handed GoPro trigger pole. The KTP18 keeps with KNEKT's trend of sleek, beautiful and highly durable products, and it frees you up to take expert shots while not compromising anything. All you have to do is pull the trigger. This pole is simply a masterpiece and should be on the radar for any amateur, semi-professional and professional extreme sports junkies.
What We Love: The KTP18 Trigger Pole is a work of art. Expertly designed and truly innovative, this one-click trigger GoPro pole lets you focus on your ride while the camera captures your raddest moments.
---
Jib for Jibbing: Ever wanted a buttery-smooth pan to capture a buddy's epic moment on the pipe? Ever felt the need to pull off a perfect camera tilt to tie together an edit? The MicroJib has your back. A truly original product, the MicroJib lets you tilt and pan your GoPro with extreme ease. This pole was a successful Kickstarter story and is rightfully making its way into the gear arsenals of content creators all over the planet.
What We Love: At GoWorx we value innovative designs that bring new ideas to the table. The MicroJib hits on all points--there really isn't anything else like it on the market.
Tilt and Pan | $119
---
Category 3: Floating Poles
These GoPro poles are variations of the models above, but now they float! Let's conquer the seas.
Surf Ready: Above we mentioned out love for the UKPro HD. The HDF is no different. Dropping in on a massive barrel? Diving down and hanging out with sea turtles? Quickly frame a shot for the next wave with distinct UKPro features like the rotating GoPro mount. The floatation device is well-built and looks great. Best part is, you don't have to worry about losing your pole.
What We Love: The UKPro HDF Floating GoPro Pole feels great in the hand and we love the look!
---
Hawaiian Bred Awesomeness: The KNEKT Handle FPSH brings together the insanely excellent build quality of KNEKT and extreme utility. Charge the depths with no fear, this floating pole has got you covered. BONUS: Want to extend it? Check out the floating KENKT Pole Section FPS1 at an easy $24.99

What We Love: Sleek modern aesthetic, lightweight but durable, comfortable to hold and a breeze to use, what's not to love?
---
Complimentary Gear
Since we have so much awesome gear in the shop, we thought we could take a look at some complimentary products we recommend you pair with any  of the GoPro Poles above.
Take Your Mobile Photography to the Next Level: Yes... we built it. But that doesn't stop the FreeRide Phone Mount from being a world-class accessory that will let you easily connect your phone to your favorite GoPro Pole! The FreeRide Phone Mount works with any sized phone even with the case on, and reviewers have hailed it as the best on the market. 
What We Love: It's our baby, but from an objective standpoint the fact that the FreeRide connects to both GoPro mounts and standard tripods is a game-changing feature. 
---

Get a Grip: Just imagine it, you are shredding some glassy swells when a mermaid catches your eye. The moment of distraction leads you to forget about the massive marble slab coming your way. You get thrashed, down for 45 seconds... the mermaid is unimpressed. The worst part? You lost your GoPro Pole! This common scenario will never happen again with the KNEKT Wrist Tether. This double padded and super comfortable tether can attach to most GoPro Poles and really any other accessory or device you use to capture the moment.
What We Love: It feels good, is easy to attach, and should be a part of any gear arsenal. 
---
What GoPro pole do you use to capture your adventures? Share below or tag @goworx on Instagram with your raddest GoPro pole perspectives...