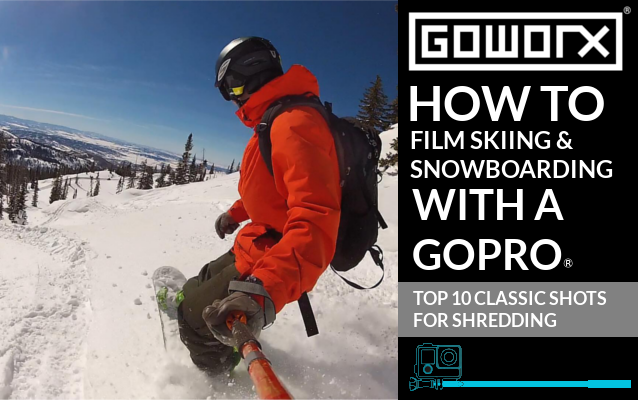 Sick of shooting mediocre GoPro ski and snowboard footage? Our Top 10 GoPro Shots for Skiing & Snowboarding can help you master multiple perspectives and capture your snow skills like never before.
Whether you're just getting into the GoPro game or need a little extra flavor in your shred footage, these 10 essential GoPro angles will add variety and head-turning perspectives to your ski and snowboard photography. 
Variety Is the Spice of Epic Edits
Take a closer look at your favorite ski and snowboard films and make note of the different perspectives. You'll see everything from helmet-mounted POV shots to aerial photography to time-lapse sequences and beyond.
Editing different perspectives into your movies will keep your viewers on their toes and engaged, which will help you grow your following…or just make your friends jealous of your epic pow runs.
Even if you don't have access to a helicopter, you can add awesome new perspectives to your arsenal with the right gear and a little know-how. Below are 10 classic GoPro shots for skiing and snowboarding that can help open up your creativity and enable you to capture next-level content while on the mountain.
---
1. The Pole Shot 
Photo: @wiley_one 
The most popular GoPro ski and snowboard angle these days, the pole shot lets you frame yourself, the snow and the scenery all in one shot.
And it doesn't take much to tweak the angle…just angle the pole behind you.
Necessary Gear
To get a pole shot you'll need…uh...a pole (duh). Here are some of our favorites for skiing and snowboarding.
UKPro 38HD Telescoping Pole for GoPro | $39.99
For skiing and snowboarding, we love the UKPro's burly metal design and quick adjustability. It also comes in a 54-inch version for extra reach.
Or try the UKPro Pivot to get snowy selfie shots without getting the pole in the frame. 
Want a little extra flavor in your pole shots? Try the MicroJib and fully pan and tilt your GoPro for dynamic, sweeping shots of your perfect run through the park. 
For more GoPro poles, check out our "Ultimate GoPro Pole Buyers Guide."
---
2. The Helmet Mount 
The original POV perspective and probably the first GoPro mount on the mountain, the helmet mount is a true classic. 
Video by @kmarshnc
With a helmet-mounted GoPro your neck acts as a natural gimbal to reduce vibration, and since the camera captures everything you see you don't have to change anything. Just point it.
Change it Up 
To change things up (nobody want's to watch 20 minutes of one perspective), you can rig your helmet mount to face downward and get a totally new perspective for your edits.
Video by @proud_to_be_a_cripple video in La Plagne, FR 
Necessary Gear
You can easily mount your GoPro to a helmet with the camera's included Curved Adhesive Mount, but if you've already used (or lost) that mount or want a less permanent solution you can try a zip mount or suction cup mount. See below:
OCAM Zipmount | $28.99
Simply thread the zip ties through your helmet's vents for a tight hold. You can also use the Zipmount to convert any ski pole into a GoPro Pole in seconds. Pretty rad.
No helmet vents? Try the BRLS Removable GoPro Suction Cup Mount | $39.99
This GoPro suction cup mount has a super strong hold (like sticks to an airplane wing strong) so you can attach it to your helmet, board (see below) or anywhere else there's a smooth semi-flatish surface without leaving permanent adhesive residue.
---
3. The Chest Mount
More useful for forward-facing skiers, the chest mount is a more discreet way to get a POV perspective.
Skier: Casey Durbin, Edit: Rob Hurst
Chest mounted GoPro shots include the skier's arms, creating a centered look that may further stabilize ski footage.
Necessary Gear
The GoPro Chesty Mount works, but if you want the same perspective without the straps, try a GoPro backpack strap mount. 
Peak Design Capture P.O.V. GoPro Backpack Mount | $69.95
Just slide it onto a backpack strap, lock it down and drop in! Plus you can use the Capture P.O.V. on almost any strap…including boot straps (see below).
---
4. The Boot Mount 
A truly creative GoPro perspective, the boot mount gives you an unparalleled view of your board or skis as they carve down the mountain.
Video: @your_mikeness
BONUS: because your camera is mounted so close to the snow, the boot mount makes it look like you are traveling at ludicrous speed! Downside: it doesn't really work in deep snow.
Necessary Gear
You can easily repurpose the Peak Design Capture P.O.V. GoPro Backpack Mount to attach to your ski or snowboard boot strap or laces, but here's another option:
Incase GoPro Strap Mount | $29.95
Your GoPro slides right into this GoPro strap mount with the GoPro quick-release mount included with your camera. This Incase strap mount works on most straps and may be your new go-to mount for your adventures on AND off the mountain.
---

5. The Board Mount
Another original GoPro perspective, the board mount gives you a larger-than-life vibe thanks to your GoPro camera's wide-angle lens. It pretty much just makes you look like a rockstar, which could be just what you're looking for in your shred edits.
Photo: @miinapr
Necessary Gear
Again, you can achieve this with the GoPro sticky adhesive mount that came with the camera, but we'd recommend the BRLS Removable GoPro Suction Cup Mount because it has a super-solid hold and doesn't require drilling or sticking anything permanently to your board.
---

6. The Follow Shot 
Maybe the most dynamic and exciting shot in the bunch, the follow shot is our favorite way to showcase the tricks and fluid motions of skiers and snowboarders. 
 Video by The Daily Pow in Utah. 
Necessary Gear 
You can get the job done with a good helmet mount or you could get super fancy and spring for a 3-axis gimbal. There are lots of options out there. But we'd recommend keeping it simple with a tried and true GoPro grip like one of these:
GoWorx GoKnuckles | $19.99
Wielded the world over, our popular GoKnuckles are comfortable in the water, on the snow or really anywhere. All you do is attach your camera, press record and follow your buddies as you rip up the mountain all day. 
Want another option? Try this:
GoScope Surface GoPro Grip | $24.99
GoScope designed this simple GoPro grip so you could rig up two GoPro Hero Cameras at the same time. That way you can get simultaneous shots of yourself AND your friends tearing up the deepest powder of the season. How neat is that?
---

7. The Skate Shot  
Borrowed from our concrete rolling friends in the city, the skate shot gives your subject a larger-than-life vibe thanks to its low-angle perspective. When you combine that with GoPro's wide-angle lens, you get pretty rad imagery that makes any Jerry's run through the park look decent.
Rider: Casey Durbin, shot with the Original Handle
Necessary Gear
You can do any amount of acrobatics with poles, grips or helmet mounts to get great low-angle skate shots, but the absolute best GoPro accessory for skate shots has got to be our Original Handle:
GoWorx Original Handle | $29.99 
Designed to get your GoPro as low to the ground as possible, our Original Handle delivers the low-angle footage your hard-hitting park edits and night rail sessions need. Plus, you can get an all-metal Handle for an indestructible, stable platform that's ready to film your rowdiest season edit yet. 
---
8. The Static Shot 
Every edit needs a scenic time lapse or two, and the static shot gives you a chance to enjoy an apres beverage while your GoPro does all the work. Static just means not moving, and it's a great way for solo shredders to get photo and video of themselves in the park. Just set your camera on the lip of the pipe or next to the park feature, set it to video or burst mode and get shredding.
Static shots allow for time lapse sunset shots and give your amateur snowboard movie a professional vibe. They also allow your audience to take a visual breather from all of the skiing or snowboarding action. 
Necessary Gear
As you can see above, our Original Handle is a great platform for filming static shots and time lapses.
The BRLS Removable GoPro Suction Cup Mount is also great for static shots because you can stick it almost any park feature (wall rides, boxes, flat rails, picnic tables) and it will also stand up on its own on the edge of a kicker or halfpipe. 
For a more robust, sturdy tripod for GoPro cameras, you can try this:
Pakpod Adventure Tripod with Ninja Stakes | $99.00
Adjustable legs and "Ninja stakes" let you anchor this beast into the snow, stick it into the side of kickers or set it up almost anywhere, so you can film the whole squad playing follow the leader over your park's biggest kicker. Plus, it's burly waterproof design will last.
---
9. The Point-and-Shoot Shot
When expanding your GoPro photographic repertoire, its important to learn how to use your GoPro Hero camera as a traditional point-and-shoot camera. When capturing incredible days on the mountain with poles, helmet mounts, etc. it's easy to forget that the GoPro Hero Camera is just a super solid camera for taking stills as well as HD video. The point-and-shoot shot is just using your GoPro like a traditional photographer: standing still and shooting your subject in the best framing, lighting and interesting positioning possible. 
Killer GoPro still photo by @coberschneider 
Usually these type of shots take a little planning and choreography with your riders or skiers, but they require you to be absolutely still (for photos) or pan slowly (for video). So if you're halfway down the chute (in a safe spot), stop and let your friends slide by while you record video. Or post up next to the kicker and let your friends throw big floaty 3's while you soak up all the rad footage. 
Necessary Gear
The name of the game here is stability. The more stable you can make your GoPro, the better quality photo and video you will capture. 
Poles, like the UKPro poles above and our GoWorx GoKnuckles or Original Handle will work with some practice. These are a great option for getting point-and-shoot shots in the middle of a run or when you're in avalanche terrain and don't want to hang out very long. 
The most stable you're going to get is a tripod, and the Pakpod Adventure Tripod is truly a great tripod for GoPro users. 
Another option:
KNEKT KTP18SS Trigger Pole | $179.99
Designed exclusively for the new GoPro Hero 6 Camera, this GoPro trigger pole connects you directly to your camera's shutter button so all you have to do is...you guessed it: point and shoot.
---

10. The Drone Shot
Unless you have regular access to a helicopter (DM us!), a drone is the best way to shoot truly spectacular GoPro ski and snowboard photography. The sweeping shots of a rider perched atop a jagged ridge line, the aerial follow shots, the Super Duper Park shots...it all just seems so much bigger with a drone. 
This video by @jorgemiarnau in Andorra does a great job of cutting in drone shots as well as follow shots and point-and-shoot shots.
There are some variations on the drone shot, and experimenting with your machine and your crew is the best way to get the best imagery. Try mixing it up with top-down views, flybys, scenic background shots and any number of aerial follow shots. The best way to get inspiration is to follow other drone photographers and see what they are doing. 
Try following these photographers for snowy aerial inspiration:
@coberschneider
@goldenriderbc
@airdog_official
Necessary Gear
Of course, you'll need a drone to get drone shots. There are several options out there that produce professional-grade photography with (or without) a GoPro Hero Camera. Here are some of our favorites...
Drones that use GoPro:
1. 3DR Solo Quadcopter with 3-Axis Gimbal - Get the popular advanced flight features with the power of your favorite GoPro Hero Camera.
2. The GoPro Karma Drone - We are pretty impressed with the quality of photography that has come out of the Karma Drone, even though it will no longer be made after 2017. But hey, that means you'll probably get a great deal on the Karma Drone and it includes a handheld gimbal as well!
Drones that use their own on-board cameras:
1. DJI Phantom 4 - This one features an obstacle sensing system and its own amazing set of flight modes. Plus the 4K video is really top-notch for drone videography. 
2. DJI Mavic Pro - The Mavic Pro has really upped the game as far as image quality goes, and easy flight modes and smooth controls have really out performed the competition (looking at you, Karma). 
Wait...what if you don't want to buy a drone???
We hear you. Our solution is to find a local drone pilot. Drones are everywhere nowadays and odds are there is a great drone pilot near you that is willing to collaborate on a winter project.
More than anything, we want the GoWorx community to find new ways to be creative, and that includes meeting new friends to share in that creativity. Put up an ad on a bulletin board, post on Craigslist (be careful) or ask your friends if they know anyone with a drone. If you have the shred skills, then they will probably be interesting in having an interesting subject for their next video project.
---
GoPro Snow Settings & Other Resources
We'll have to do a full post on the best settings for GoPro Hero Cameras, but until then, here are some great resources for dialing in the right settings for snowboarding or skiing with a GoPro: 
https://www.alltracksacademy.com/blog/how-to-shoot-and-edit-incredible-gopro-skiing-videos/
https://www.reddit.com/r/gopro/comments/137fzo/tips_techniques_for_filming_skiingsnowboarding/
https://rootsrated.com/stories/how-to-make-epic-gopro-ski-videos-11-tips-from-a-jackson-hole-pro
Other Tips & Tricks
Bring extra batteries! And keep them fully charged with either a dual charger or a portable power pack for GoPro! Cold weather is hell on electronics, so be sure to turn off your camera between runs. And we recommend keeping it in your pack or a jacket pocket when not in use to keep it out of the elements as much as possible. 
Use the GoPro App. When preparing for a shot, it's always a good idea to check that you're getting the perspective that you want. The GoPro App lets you see what your GoPro sees, so you'll know you're getting the most out of your powder day shots. 
Use a waterproof housing. Even though powder snow is dry, the moisture can still compromise your camera. And, even though it sucks, a sudden rain shower or spring meltdown can occur at any time throughout the ski season. 
Keep water droplets off your lens. Speaking of moisture, it's always a good idea to treat your GoPro with GoSpot GoPro Lens Repellent before you head out to prevent pesky water droplets from ruining your footage. 
What tips do you have for skiing or snowboarding with a GoPro? What did we miss? Let us know your tips and tricks in the comments below. And be sure to join the conversation on Instagram, Twitter and Facebook!
---
About GoWorx
We inspire next-level content creation with our hand-picked selection of GoPro, DJI and Smartphone Gear. See how our community creates with GoWorx when you follow us on Instagram, Facebook and read up on news and tips on our GoWorx blog.