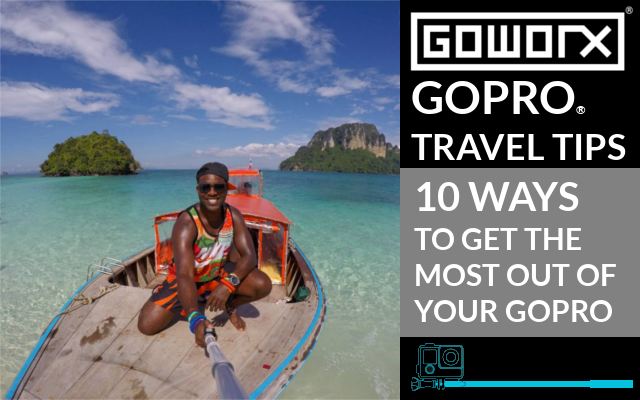 Want to step up your GoPro travel photography? Planning to go on vacation with a GoPro? Check out our guide to traveling with a GoPro, outlining 10 ways to get the most out of your GoPro while abroad.

By Godwyn Walker, GoWorx Member
This is the first post in a brand-new series by GoWorx Contributors. Have an idea for a news story, photo series or gear guide? Let us know in the comments below or on social media.
Why We Capture
Being on the road and hitting destination after destination is truly a rewarding experience itself, but capturing priceless memories you can relive year after year (AND share with your friends and family) is one of the reasons we love to travel in the first place. For those of us who can't live in a constant state of wanderlust, we rely on these memories to get us from vacation A to B. And photography has become more than a hobby for a lot of us, so with every trip comes the fun challenge of capturing the best moments, scenery and culture.

In our opinion, the absolute best camera for traveling is a GoPro. So we thought it appropriate to write a photography guide for traveling with a GoPro, featuring our ten favorite travel tips to get the most out of your GoPro whilst on the move!
Photo Mode, ISO Min/Max 100, ProTune On, GoPro Colour, Wireless Remote for trigger
Tip #1: Shoot On The Move
Bags packed? Check! Taxi? None available! It's time to walk this one out… but not without taking a selfie on the way! Capture yourself and your bags embarking on the next travel destination.
This type of shot is great for quick updates to social media or blogs when you're in route to your next destination, but sometimes you can click solid candid shots while on the move. Using any GoPro Pole will be more than perfect for capturing shots on the move.
---
Burst mode, Rate 30/2, ProTune On, FOV Wide, WB Auto, GoPro Wireless Remote & GoSpot    
Tip #2: Capture the Action
Just when you think there's no better feeling than trying something new, you can go a step further and freeze-frame the moment as it's happening. For this kind of image, all you need is to be adventurous!
Whether you grab your GoPro pole and fly down a waterslide or clip on your helmet mount and shred down a mountain, capturing the action brings your audience along for the ride. To get action shots we recommend using a wireless remote to help freeze that moment in time or pulling a still image from a video file, but either one works.
---
Photo Mode, ISO Min/Max 200, ProTune On, GoPro Colour, Wireless Remote for trigger
Tip #3: Take the Ride Less Traveled
Island hopping is one of our favorite excursions whilst traveling! Whether you're hitching a ride through the desert on a camel, zooming around Bangkok on a noisy tuk tuk or crashing through the waves on a traditional long-tail boat, capturing all your different ways of traveling from A to B is perfect for storytelling!
To get the shot, don't be afraid to ask for a window seat or a back seat on the bus, and be sure to be careful when hanging out of a tuk tuk. Sitting in the right spot does wonders for a picture, so get out there and find the best seat and snap away!
---
Photo Mode, ISO Min/Max 100, ProTune On, GoPro Colour, Wireless Remote for trigger
Tip #4: When It's Just You Two, 

Snap a Third Person View 
While on the move, it can be troublesome trying to get you and your traveling partner in a picture together. Asking a fellow tourist or local citizen may not always be an option, and that's where the action cam pole comes into play! This simple, yet super-effective accessory allows you to capture that third person's view and with a little panning, you can almost capture the whole road ahead.
Want to know our picks for the best GoPro pole? Check out the Ultimate GoPro Pole Buyer's Guide for finding your very own pole.
---
Timelapse Mode 5 seconds, ISO Min/Max 100, ProTune On, GoPro Colour, 50/50 Dome
Tip #5: Get Creative Wherever You Are

It's a whole new world when you're underwater, so be creative with it! Jump in with your clothes on, grab a few props and with a little spontaneity you can create quirky and interesting pictures that stop Insta-scrollers in their tracks. The signature underwater beer bottle pose never gets old, just don't crack it open until you're out of the water! When there is so much to see below the surface and you're surrounded by beautiful scenery on dry land, a 50-50 Dome is the hands-down, must-have accessory for capturing imaginative pictures like the one above.
---
Still frame from Video, Video mode : 4K 30 FPS, Protune on, White Balance Auto


Tip #6: Set Up Scenic Shots
Scenery is truly something you cannot overlook while traveling with a GoPro. With jaw-dropping views at hand, you'll find yourself staring into the distance and just taking it all in. One of the best ways to take GoPro travel photos is by positioning yourself looking out into the distance with your back to the camera. This creates the ideal angle to capture your views and yourself all in one take. And remember: with a great view comes great responsibility to transform what you see into an image that you would hang in your front room.
You may need a tripod to get professional scenic shots with a GoPro. Check out the Pakpod Adventure Tripod for GoPro for a super sturdy GoPro tripod.
---
Photo Mode, ISO Min/Max 100, ProTune On, GoPro Colour, Wireless Remote for trigger
Tip #7: Get Wild with Animals
With cat and dog videos taking over the internet, it's only natural to whip out your camera when your pet does something funny! But when you trade cats and dogs for elephants or monkeys your shot becomes even more wild!
If you happen to visit a location that's home to exotic animals, whether in sanctuaries or their natural habitats, chances are you'll be overwhelmed with excitement and you might even get lucky with a hands-on experience. Before the moment is over, be sure to snap a few memorable animal shots with your GoPro that you will look back on with a smile. To easily ensure that you don't miss a second of magic, strap your GoPro to your head or chest and let the camera do the rest.
Pro Tip: Be considerate of the animals and their handlers and ALWAYS give wild animals plenty of space...they are wild after all!
---
Photo Mode, ISO Min/Max 100, ProTune On, GoPro Colour, W/B Auto
Tip #8: Pack Light
This tip cannot be any more important for a traveling abroad with a GoPro. If you're anything like us, you have a drawer at home that contains various GoPro mounts, multiple GoPro accessories and hundreds of thumbscrews! However, whilst hauling all of your travel essentials on your back, you will be glad you packed light (or wish you did!). So be sure to only pack what you know you will use. 
If you need a little help with organization (or slimming down your GoPro camera bag), the GoScope ProFlex GoPro Case accessory bag is perfect for holding your absolutely essential GoPro accessories.
---
Video mode 4K 30FPS , ISO Min/Max 100, ProTune On, White Balance: Auto
Tip #9: Capture Bloopers
You can spend minutes, even hours, positioning your camera in the right angle. You've got the lighting just perfect and even mastered your signature pose… however, not everything always goes according to plan! But capturing the "I'm not ready" photo doesn't have to be a bad thing. It can result in a funny, wacky picture that will have you and your friends laughing over and over. Unexpected shots are also excellent for capturing one-of-a-kind facial expressions. And when making a video or slideshow, a few blooper shots at the end are a great way to end on a fun note and show your audience your sense of humor.
---
Photo Mode, ISO Min/Max 100, ProTune On, Colour Flat, Wireless Remote for trigger
Tip #10: Enjoy Yourself
Easily the most important GoPro tip of all is to enjoy yourself! Take it all in, hit as many golden hours as you possibly can, bring your camera everywhere you go, let your hair down and don't stop taking pictures until your fingers go numb. Remind yourself why you embarked on this journey and do your best to express that sentiment when telling your story through your photos and videos. 
---
About Godwyn Walker
Godwyn Walker is a photographer and content creator from the UK who loves traveling the world, making priceless memories and constantly improving his  his GoPro photography skills. Check him out on Instagram (@GD0ggy) and follow his latest adventures on Facebook here. He is currently traveling through New Zealand with his partner (Instagram: @amiarmstrong) so be sure to check out their journey as it unfolds.
Godwyn is also a GoWorx Member (that's where he got that sweet shirt!). Tap here to find out how you can become a GoWorx Member and get access to our members only community and other solid perks.
---
About GoWorx

We inspire next-level content creation with our hand-picked selection of GoPro, DJI and Smartphone Gear. See how our community creates with GoWorx when you follow us on Instagram, Facebook and read up on news and tips on our GoWorx blog.