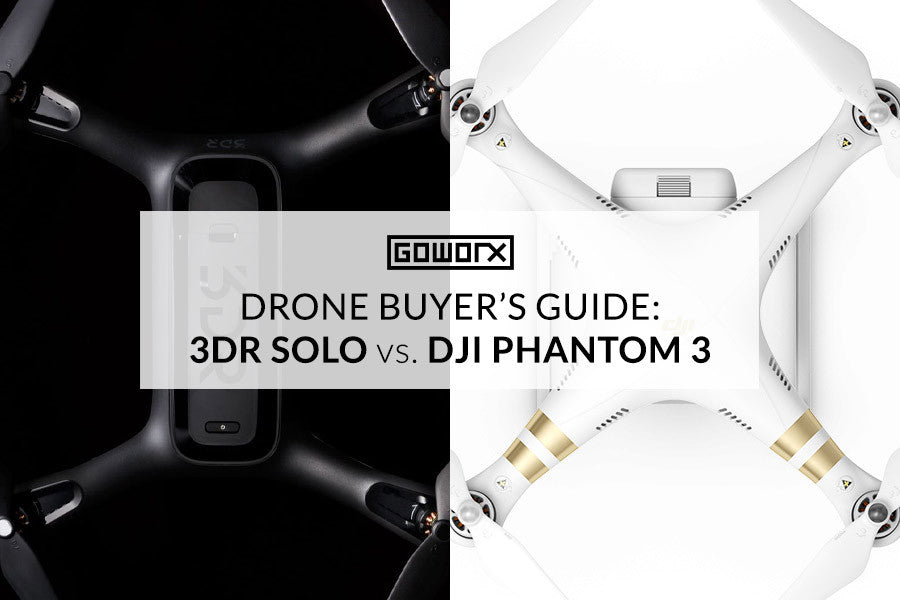 These days, aspiring aerial photographers have hundreds of camera-equipped drones to choose from, but when considering reliability, usability, image quality and value, the 3DR Solo and DJI Phantom 3 emerge as the top choices. Of these two, which one would be best for you? Well, that all depends what you want to do with your drone. No matter your motivation, this drone buyers guide will help you decide which of these two amazing drones can help you reach your loftiest photography dreams.
3DR Solo & DJI Phantom 3: A Side-by-Side Feature Comparison
The 3DR Solo and DJI Phantom 3 Professional* can both deliver Ultra-HD 4K video, 12 megapixel photos and an insanely fun flying experience at a price that doesn't require selling your non-essential organs. Despite their awesome overlapping features, the differences between the two are great. Understanding the separate features of both will help you get an idea for which drone fits your intended use and personal preferences. Let's break it down feature by feature so you can determine whether the Solo or Phantom 3 is the drone you're looking for…
*Note: In this guide we are comparing the 3DR Solo and the DJI Phantom 3 Professional. All references to the Phantom 3 are references to the Phantom 3 Professional unless otherwise noted. 
Aircraft Design
Solo: Stealthy and Open for Upgrades 
Many are sold on the black, stealthy look of the Solo. Sure, the black looks cool, but its dark color also lets it stand out against white clouds, helping pilots or spotters keep a visual. With its boxy, angular shape, the Solo is built more for utility, like a flying truck…not to say that trucks aren't still super cool.
Perhaps the most significant difference in the design (and the Solo in general) is 3DR's efforts to make the Solo an open platform. Included accessory attachment points and a removable gimbal allow gimbal upgrades, third-party hardware and even advanced imaging systems, parachutes and other technology that's yet to be invented. That's why 3DR has initiated the "Made for Solo" development program to encourage developers to create new hardware and software for the Solo, which also allows direct access to its main flight computer. Keeping with the open approach, 3DR made the Solo's motor pods removable so you can upgrade them and add even more power to your Solo. 
Phantom 3: That Familiar Phantom Look
A first look at the Phantom 3 reveals its sleek, smooth lines and bright, white housing covering the entire quadcopter design. To some, the symmetrical footprint of the Phantom 3 may be more visually appealing, and its resemblance to DJI's popular Phantom predecessors might explain why some drone pilots gravitate towards the new Phantom.
The landing gear of the Phantom 3 is also a bit different from the Solo, providing a little extra clearance between the camera and the ground during takeoff and landing. The Phantom's crossbars between the landing legs work well as handles while calibrating the compass before flights, and some pilots use them for hand launching and catching instead of landing their Phantom on the ground. Please do so at your own risk; those props can seriously cut you.
Flight Features:
Solo: More Power, Slightly Less Flight Time 
With twin 1GHz Linux flight computers, one located in the aircraft and one in the controller, the Solo splits the computing power and provides a powerful, precise flying experience. Its system of GPS, gyros and accelerometers feed flight data to a Pixhawk 2 Autopilot System, resulting in smooth flight while filming and rock-solid hovering for taking stills despite breezy conditions. Plus, a little extra weight in the Solo further improves its steady performance in the wind.
The Solo was the first drone to offer fully automated flight modes specifically engineered for aerial filmmaking. These Smart Shot modes are surprisingly effective and include Cablecam, Orbit, Selfie and a Follow Me mode that can lock onto your GPS-enabled device and film you while you run, skateboard or walk through the city or any other open scene. With Smart Shots, you can let the twin computers do the flying while you control the camera with the toggle on the remote.
The 3DR Solo also boasts a 55mph (89km/h) top speed, which makes it insanely fun to fly. It also features a "Pause" button on the controller to command your Solo to stop and hover as well as a Safety Net function that lets you set up distance and altitude limits for safe beginner flights.
Phantom: Smart, Sporty & Simple
The Phantom 3 features an Intelligent Flight System and an advanced Internal Measurement Unit with a six-axis gyroscope and accelerometer to keep you flying level and under control at all times. The Phantom 3 Professional's upgraded GPS gives you access to a minimum of 36 GPS and GLONASS satellites at all times, enabling quicker link ups and more reliable flight in remote areas.
The Phantom 3 Professional (as well as the newly released Phantom 4) features a Vision Positioning System that works a lot like SONAR to enable stable while flight indoors. That opens up an entirely new indoor world of photographic possibilities; however, we recommend using prop guards when flying inside.
While only topping out at 35mph (57.6km/h), the Phantom 3 Professional may not be as fast as the Solo, but its Intelligent Flight Battery keeps you in the air for three extra minutes, which is a lot when you're snapping one-in-a-million photos of a sunset in Hawaii. Also, the battery recharges a bit quicker than the Solo's.
Somewhat recently DJI developed Intelligent Flight Modes (much like the Solo), so you can set your Phantom 3 to follow you, orbit a point of interest, take epic fade-away selfies and even set it to fly along a series of GPS waypoints. As with Smart Shots, DJI's Intelligent Flight Modes let you concentrate on controlling the camera so you can dial in amazingly stable shots that captivate your audience.
Camera & Gimbal: 
Solo: The Great GoPro in the Sky
Now we come to the main difference between these two amazing drones: the camera. First off, the 3DR Solo doesn't come with a camera, but it was developed closely with GoPro in an effort to become the world's best flying platform for the world's most popular action camera. Depending on the user, that can be good or bad. If you already own a GoPro, then you don't have to shuck out the extra cash, but to get the full 4K UHD video at 30 frames per second that we listed above, you'll need a GoPro HERO 4 Black.
NOTE: You can only get complete functionality with your Solo with the GoPro HERO 3+ Black, HERO 4 Silver or HERO 4 Black. However, you can use a GoPro HERO 3+ Silver for video only.
The main perk of using a GoPro with the Solo is utilizing the GoPro's wide range of photographic possibilities. However, aerial footage captured with your GoPro/Solo combo will likely require a good amount of editing. The GoPro HERO 4 Black also captures a wider field of view (depending on setting), so you get more of the sunset or mountain scene in your footage. That footage might show "jello" artifacts or a slightly distorted fisheye effect, but that can be remedied by cropping out the edges of your footage, using ND filters or by adjusting the camera's frame rate. Basically, with a GoPro on your Solo, you're going to get more raw video to work with, but you're going to have to spend a little more time editing than you might with a Phantom 3.
Other awesome perks of using a GoPro are the many photo burst modes available. Instead of recording video, you can set your camera to take up to 30 12 megapixel photos a second or as little as three photos per second. That enables a more passive way to capture quality aerial photography while you focus on flying and framing shots.
One of the main selling points of the 3DR Solo has to be the Solo Gimbal. With help from GoPro, 3DR successfully designed the first-ever gimbal with full control over a GoPro (including access to all settings), which gives you the ability to pan, tilt, snap stills and initiate Smart Shots. Plus, it provides cinema-worthy stability while flying. If you're looking at buying the Solo, we strongly recommend springing for the version with the gimbal: the 3DR Solo Quadcopter with 3-Axis Gimbal. 
Phantom 3: Simply Stunning
Thanks to its powerful camera, the DJI Phantom 3 is the easiest way to capture eye-popping aerial photo and video with full 4K UHD and 12 megapixel resolution. That's because the mounted camera was designed specifically for aerial photography and filmmaking, which limits distortion and greatly reduces the editing required to achieve professional-level content. An abundance of advanced camera settings are available through the DJI Go App, including 3/5/7 photo burst modes and time-lapse. The Phantom 3's 20mm lens also accepts ND and circular polarizer filters to further fine tune your image capture.
Since the camera and gimbal are completely integrated into the Phantom 3, there is no installation necessary, which means quicker pre-flight checks and less overall stress on the gimbal. The gimbal itself provides reliable stability and buttery smooth tilting, whether you're controlling it manually or using one of the many Intelligent Flight Modes. The Phantom 3 gimbal is a bit more delicate than the Solo, but it comes with a gimbal guard that you can use to protect it during transport.
Remote Controller:
Solo: HDMI Out FTW
First off, 3DR installed a 1GHz computer into the Solo controller, which helps with some of the Solo's processing power and even saves detailed flight data within the controller itself. That can be useful in the event of a flyaway or serious crash, because if you can use that data to prove the crash was the result of a malfunction, then 3DR will replace your Solo AND your GoPro.
Another obvious difference is a data screen that displays airspeed, battery status, altitude, gimbal angle and other flight data. As for devices, the controller connects to a smartphone or small tablet via the device's Wi-Fi, sending it out to your Solo up to a half-mile away.
Probably the coolest feature of the Solo controller is its HDMI port, which sends out a live 1080p HD video feed for use with FPV goggles, a TV monitor or even to stream your flight live online. This small feature can greatly expand the applications of your Solo and provide a one-of-a-kind flying experience.
The Return and Land at Home button, gimbal control, camera shutter button and even the ability to customize buttons are standard on both the Solo and Phantom controllers, but are all useful features that get a lot of use during flight sessions.
Phantom 3: Greater Range with Lightbridge
The Phantom 3 controller follows the same basic twin joystick design, but it allows you to use a full-size tablet for a larger live HD view of your drone flight. It also uses DJI's Lightbridge USB connection to speed up the data transfer between your device and the controller to reduce video lag.
With a transmission range of up to 3.1 miles, the Phantom 3 beats the Solo's range by a couple miles, but with current FAA UAV regulations, drone pilots in the U.S. are required to keep their drone within sight at all times. That brings the realistic (or legal) range back to around a half-mile anyway, so that difference may be negligible for U.S. users.
While the Solo features a Pause button on its controller, DJI has the same 'stop and hover' command built into its Intelligent Flight System controls. Every time you release a joystick, your Phantom 3 stops and hovers in place until you tell it what to do next. While a pretty basic feature, it can really help first-time pilots gain confidence and re-orient themselves during flights.
Mobile App:
Both 3DR and DJI have done a great job developing apps that elevate the flying and filmmaking experience with their drones. They both are iOS and Android compatible, both provide a live 720p HD view, both allow enhanced camera control, both enable easy content sharing, both include a flight simulator, both give you access to a live GPS view of your flight and both control automated flight modes.
Solo: Get Your Dronecode On…
On top of all the overlapping features, the Solo App has been said to be a bit easier to operate right out of the gates, giving first-time users a quicker learning curve. That's most likely because of its simpler display (with a majority of the flight data appearing on the controller's built-in LCD screen). 
For many drone enthusiasts, the most attractive feature of the Solo App will be its open source DroneKit SDK and web API, which enables users to hack the software and develop new apps. The open platform is backed by the Dronecode Foundation and lets software developers and hobbyists create new apps to add new functionality to your Solo drone, to enhance your flight experience on your device or to even customize how your Solo shares and uploads data to the DroneKit Cloud. This is the software side of 3DR's "Made for Solo" development program, which hopes to jumpstart small companies while also improving the capabilities of the Solo and drone technology in general. For enthusiastic drone advocates, this could be an attractive company philosophy that is easy to get behind.
Last but not least, the Solo App lets you update all of the Solo's firmware wirelessly. Compared with the Phantom 3 update process, it's virtually automatic and gets you flying much sooner after an update becomes available. 
Phantom 3: Advanced Settings for Photogs
For the Phantom 3, the big selling point for photographers is the wide variety of advanced camera settings available through the DJI Go App. Being able to quickly change ISO, resolution and frame rate lets you properly tune your camera to match the conditions while you fly. Plus, you can easily stream your flight on YouTube and blow away your loyal fans.
DJI also allows app development with the Go App's SDK, but it really only lets you create new apps that work with your mobile device, instead of making the entire flight system open.
Price:
The 3DR Solo Quadcopter with 3-Axis Gimbal is available for $999.95 at GoWorx.com. (GoPro Sold Separately)
The DJI Phantom 3 Professional Drone is available for $999.00 at GoWorx.com. We used the Phantom 3 Professional for our comparison, but other Phantom 3 models are also available, ranging from $499-799 with various differences in flight and camera features. Explore and shop the full Phantom 3 drone line here.
Also, the DJI Phantom 4 Drone has recently become available and offers a whole slew of new features to discover.
Overall Impressions: 
Solo:
Overall, the 3DR Solo is a powerful, easy-to-use quadcopter that lets you use your GoPro HERO camera as an eye in the sky to shoot stunning aerial imagery. You can most definitely create the same stunning content as the Phantom 3, but there may be a little more practice, editing or fine tuning involved in the getting the final product.
It is definitely ready to fly right out of the box, but 3DR's decision to make it an open platform means that it will be eligible for hardware upgrades, software hacks and other improvements as they come down the pipe. You could say the Solo is like Android, and the Phantom 3 is more like Apple, but don't let that discourage you one way or another.
Phantom 3:
The Phantom 3 is an all-encompassing and incredibly easy way to capture amazing photo and video from the sky. It has become the most popular choice for beginning and experienced drone pilots because of its combination of simplicity and robust features.
The software upgrades like Intelligent Flight Modes and other functions have proved that DJI is constantly working to improve the user experience in any way possible. In the end, the Phantom 3 will get you from unboxing to stunning imagery quicker, but with that you sacrifice a certain level of camera control and the ability to edit things the way you want (e.g. smaller field of view, etc.). For some particular photographers that may feel limiting, but for most people, the Phantom 3 will not fail to impress.
Bottom Line: What's Your Intended Use & Preferences?
It's clear at this point that there is no bad choice between the 3DR Solo and DJI Phantom 3. It really just comes down to your intended use and camera preference.
 Do you already own a GoPro HERO 4 and regularly create awesome content?
Maybe the Solo can take your content to the next level.
Do you want the easiest possible way to get Ultra-HD aerial footage of your adventures?
Maybe the Phantom 3 Professional (or DJI Phantom 3 4K Drone) is the way to go.
Are you eager to learn how to write flight apps and use dronecode to develop new, innovative uses for drones?
Go for the Solo and please share what you learn with us!
Do you just want to fly and take cool photos?
Check out the DJI Phantom 3 Standard Drone (at $499).
Do you want to add an aerial view to your photography business, movie production or adventure documentation?
Pick one based on which camera you think you'd be more comfortable editing.
We are 100% confident that either of these drones will satisfy your desire to fly and create amazing content. We hope you've found this guide helpful. If we missed anything or if you have further insights on the 3DR Solo or DJI Phantom 3, please comment and let us know!