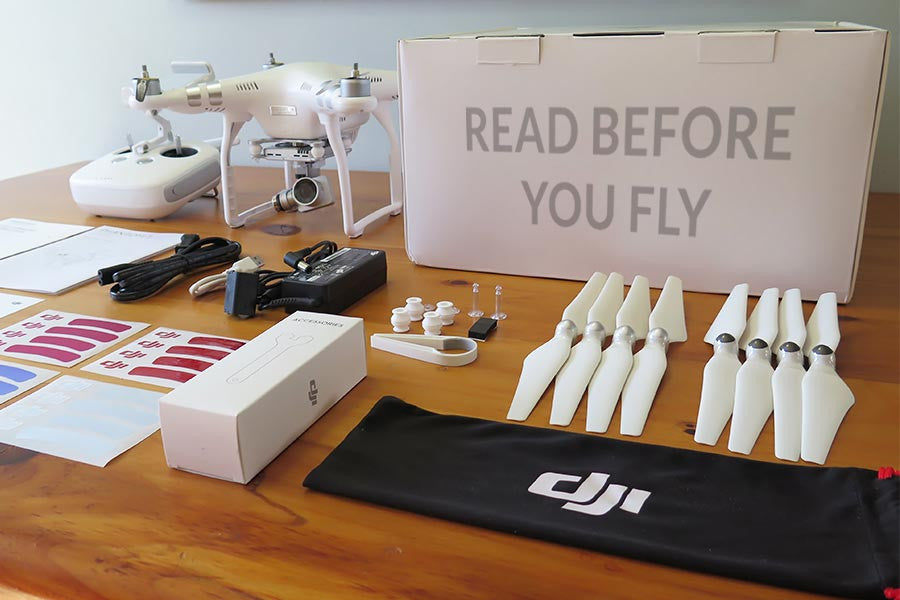 If you're a new drone owner, aspiring beginner pilot or are thinking about purchasing a high-quality flying camera like a
DJI Phantom or 3DR Solo Drone
, you may be wondering how to fly a drone. If so, please read this guide first. In order for you to get the most out of your drone, we have compiled these beginner tips to help you avoid costly crashes, flyaways and other dreaded drone fails.
Isn't My Drone Ready to Fly?
"Ready to Fly" could be the most dangerous three words to new drone owners. Sure, some drones are (mostly) ready to fly, but beginner pilots are not. With a million new drone pilots taking to the skies in 2016, drones have popped onto the radar of the mainstream media, politicians and critics of all calibers, and the stakes are high. In order to keep us all flying, we have to do our part to be considerate and conservative with the use of our shared airspace.
So before you take off on your first flight, take a moment to review our five tips for beginner drone pilots. Be safe out there and enjoy the view!
1. Educate Yourself
If we could give potential drone pilots one piece of advice, it would be to learn as much as possible about drones and quadcopters before even considering a purchase. Here are a few points to consider:
-Try before you buy. Get your hands on a friend's drone, if possible. Getting a feel for the controls and the aircraft's overall capabilities will give you an idea if this whole drone thing is for you. 
-Get to know the market. What kind of drone do you want to fly? This is the first question to ask before learning how to fly a drone. Do you want to take pro-quality photo and video? Research DJI or 3DR drones. Do you want a fun toy for your kid to fly indoors? Maybe a lightweight, inexpensive quad will do the trick. Want the speed and acrobatics of FPV racing? You might have to build your own.
-If you buy, read Operations Manual twice! Not just the Quick Start Guide. Not just a YouTube tutorial. Not just this post. Some of the biggest mistakes we see come from user error during the first flight, and they could have easily been avoided with a little more instruction. Check out this guy's drone go down in a pond, yikes!
-Register your drone and know the rules in place. The basics include flying no higher than 400 feet off the ground and keeping your drone in sight at all times. There are also areas you can't fly your drone, like within 5 miles of an airport or in a National Park. It is your responsibility to know where you can and cannot fly.
-Learn how to fly...BEFORE you try. Learn to pilot a quadcopter before you make the costly decision to take'er up right out of the box. We recommend mastering a small starter quad, that way when you get on the sticks of your new GPS-assisted DJI Phantom, it will feel familiar…if not easy. DJI's included flight simulator is also a good place to start practicing the nuances of flying a quadcopter. Regardless of the method, learning the fundamentals of flying (pitch, yaw, roll, etc.) will give you a leg up once you're ready to fly your dream drone. It could also save your drone and prevent unnecessary accidents. 
2. Prepare Before Every Flight
Many beginner drone mistakes take place before they even get off the ground. And most of these could have been prevented with a solid pre-flight checklist. Here's a quick list of things to consider when preparing for your first (or any) flight:
-Check for updates. Before you head out the door, make sure your drone AND remote are updated with the latest firmware and that your device is using the most updated app (if using a device). Depending on your drone, this could be every couple of months or every few weeks. 
-Check the weather. Most novice drone pilots don't realize until it's too late how vulnerable their aircraft is to the wind. Even a light wind of 10-15mph can send your drone off course or make it very difficult to fly, which eats up your battery quickly. Sticking your finger in the air won't do the trick, because things can be dramatically different even 75 feet off the ground. Check your local NOAA aviation forecast before you head out to your flight location and don't be afraid to scrap a mission if things don't feel right.
-Develop your own Pre-flight Checklist. The secret to a safe drone flight is a solid list of steps to check off before (and after) a flight. These lists can vary widely across drone makes and models, but most will include checking batteries, props and gimbal as well as calibrating IMU and compass, confirming GPS connection and a dozen or so other steps and system checks that will let you know you're ready to fly.


3. Start Small
Your first drone flight should go down in your flight log as a success, not a heart-shattering failure. If you take it easy the first few flights, you'll be flying long enough to start having real fun with your drone. When we say take it easy, we mean:
-Find a large open area to fly. An empty field works best, but any large space away from tall trees, bodies of water, roads, bystanders or anyone else's personal property. Basically go to the most crash-friendly place you can find. Flying over backyards, neighborhoods and popular parks is inviting disaster to more than just your drone.
-Treat the first like a test flight…because it is a test flight for you AND your drone. Take off, hover and then land again. Take off again, climb to 10 feet, hover and test each command on your remote. Make sure your drone stabilizes itself after each command. Send it on a simple straight-line mission and bring it back. Try a few more simple maneuvers, test your camera and then call it a day.
-Don't get cocky. Resist all temptation to see how high it flies, how fast it can fly or how close you can buzz your neighbor's house. This is the kind of essential common sense that prevents flyaways, property damage and a bad reputation for all drone and UAV pilots.


4. Awareness is Everything
With a capable aircraft, the sky seems like an infinite space where we are free to roam to our heart's content. Sure, that was the case for the Wright Brothers, but pilots nowadays must be acutely aware of their surroundings at all times. Here are some things to watch out for:
-Objects in your flight path. Of course you'll be watching out for power lines and trees, but if you live in a farming community be sure to keep an eye out for sudden low-flying aircraft. Sometimes, emergency helicopters fly low unexpectedly, so always keep an eye on the sky and get out of their way.
-Interference. You can't see this one, but you can take cues from your surroundings. Buildings, houses and some radio antennae can emit signals that confuse your drone's flight controller. There have even been reports of pilots losing control of their drones because of their neighbor's Wi-Fi booster. All the more reason to fly in wide-open areas without people or buildings within range of your remote.
-Raptors. It's a mistake to think that you're the only thing flying up there, or that you're a master of the sky. Falcons, hawks and eagles have a few million years of evolution to unleash onto your Phantom if you give them the chance. In a raptor vs. machine dogfight, the raptor almost always wins, and there's no way they can fly away without injury from a drone's props. If you see birds of prey in the air, our advice is to let them have it.
-Animals. While we're on the topic, it's pretty apparent that drones and animals don't mix. Dogs in particular seem to have a disdain for drones. To them it's a flying vacuum cleaner that must be destroyed. Our advice: leave your dogs at home.


5. Don't Neglect your Device
Last but not least, it's important to make sure your smartphone or tablet is in proper working order before using it with your drone. Since it plays an integral part in controlling your drone's flight and camera, you shouldn't overlook it in your preflight checklist. Here are some ways to get your device ready for a flight:
-Switch to airplane mode if possible. If you don't need Wi-Fi to connect to your drone or GPS, turn it off to free up extra memory to run your drone's flight app. Plus, that prevents someone from calling you and ruining your spectacular sunset footage.
-Bring back-up power. Most drone pilots bring extra batteries for their drone, so why not bring extra power for your other devices? We love the Outdoor Tech USB Power Banks to keep our devices online when outdoors.
-Turn off GoPro Wi-Fi. On some models, the Wi-Fi from your GoPro can interfere with your drone's remote control because they use the same frequency. Unless you know for sure that they are different, it's a safe bet to turn off the GoPro Wi-Fi and avoid losing control and crashing into a tree.
---
Have any other tips for beginner drone pilots? Please share them with us in the comment section or tag us on Facebook or Instagram. Happy flying!