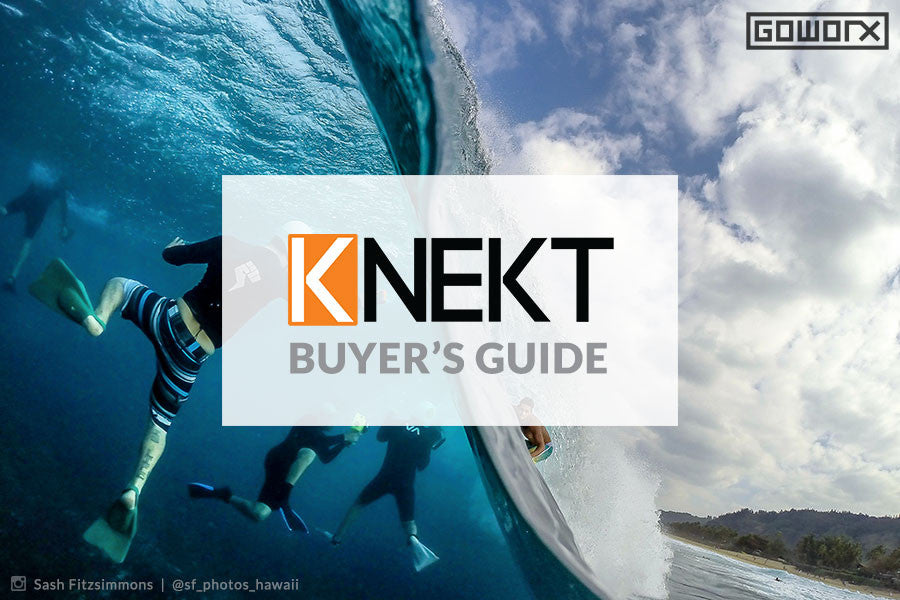 In the world of GoPro accessories, KNEKT has set itself apart with truly innovative designs that have revolutionized the surf and underwater photography game. Whether you want to snap your buddy dropping into a frothy wave or document your new fishy friends down at the reef, KNEKT has the tools to transform your GoPro HERO camera into a one-button, wave-ready camera capable of truly stunning imagery.
We rounded up this KNEKT Buyers Guide to help you get your hands on the ultimate GoPro accessory for your undersea missions, overland adventures and everything in between. 
Why KNEKT? 
KNEKT first got our attention with their ingenious designs, which have enabled surf photographers and ocean lovers to use their GoPro HERO cameras in ways not previously possible…at least not without a few thousand dollars worth of camera gear. But what really won us over was the impressive quality and durability of their products, which are proof of both good design and proud craftsmanship.
All KNEKT products are designed and manufactured in the USA by skilled machinists using the best possible materials. They use military-grade aluminum and stainless steel where possible, and are constantly thinking of ways to improve their products and develop new designs to complement your creativity.
These are not cheap, one-time use selfie sticks; these are tried and true tools that can stand up to long photo sessions in rough waves and rock-lined reefs. Photographers, GoPro Athletes and GoWorx Ambassadors all over the world are using KNEKT to capture spectacular content. We can't recommend KNEKT products enough, so we decided to write a guide to why we think they'll blow your mind too…
What's It For?
The GPLT Trigger turns your GoPro camera into a stable, one-click point-and-shoot camera capable of documenting the rowdiest surf sessions, dives or any type of action or adventure. Its stainless steel trigger mechanism engages your GoPro's shutter button, so you can instantly capture the action as it happens in realtime. This takes the guesswork out of your surf photography or really any time you want to use your GoPro as a point-and-shoot camera. Plus, its one-handed operation lets you use your other hand to swim around the waves, stay balanced on your board or do whatever you need to do to focus on the shot. 
Why You'll Dig It…
Of course you'll dig the one-click photo capture, but what you'll really like is the confidence you'll get from the spring-loaded return that lets you know you got the shot…every time. In addition, the GPLT's durable, saltwater-resistant materials ensure that your trigger will last for years of heavy use, while its stainless steel, military-grade aluminum and machined polymer construction only weigh 5.5 ounces to keep you shooting comfortably for hours.
Its open-cage design enables easy access to your GoPro buttons and LCD screen, while it also lets you easily attach filters and other housing accessories to enhance your underwater photography. Speaking of which, the GPLT pairs perfectly with the KNEKT Dome Port KSD6, enabling incredible over-under photography that shows both underwater and above water in the same photograph.
Last but not least, you'll probably dig the price at only $99.99, which is the most accessible Trigger in the KNEKT lineup. So if you're looking for one-click photo capture, the GPLT is the easiest on your wallet.
NOTE: The GPLT is compatible with the GoPro HERO 3, HERO3+, HERO4, Blackout and Dive housings. However, the GPLT is NOT compatible with the GoPro Battery or LCD Touch BacPac. If you want to use those GoPro accessories, check out the GP4 Trigger below.
Get Trigger Happy – KNEKT Trigger GPLT - $99.99
Add comfortable security to your GoPro and GPLT Trigger (or any KNEKT Trigger or pole) when you rig it up with the KWT Wrist Tether. If you're paddling out into the surf with your GoPro, attaching yourself to your rig is just common sense. The KWT's adjustable hook-and-loop wrist closure works with all sizes and it features double padding to prevent chafing in salt water. Its adjustable length, hidden key pocket and stainless steel swivel ring work together to provide a solid tether that will secure just about any pole, grip, handle or GoPro accessory on the market.
Keep It on a Leash – Wrist Tether KWT - $19.99
What's It For?
The GP4 Trigger delivers the same ridiculously easy one-click photo capture but features a full metal cage to protect your GoPro during the roughest wave photo sessions. The GP4 excels in surf photography and any type of ocean photography where you're putting yourself in the path of waves, exploring reefs or greeting curious sea life. It will also hold up to your high-speed wakeboard and wake surf shenanigans as well as protect your GoPro HERO camera when you toss it in your camera bag and travel for months at a time.
Why You'll Dig it…
You'll dig the GP4 Trigger because of the way it feels in your hand. Its superior design was developed in response to customer feedback and is the latest in a line of awesome triggers. You'll instantly feel that care and craftsmanship in this durable trigger. As for specifics, there's the extra GoPro protection provided by the military-grade aluminum cage and the one-click confidence of the all-metal trigger mechanism, which enables easy, one-handed operation. The frame allows full access to your GoPro's buttons and LCD screen, and it's also compatible with a GoPro Battery, LCD Touch BacPac and filters. 
With ¼-20 thread ports on the frame, you can attach lights, microphones, monitors or even second camera mounts to beef up your camera rig. And of course, the GP4 Trigger pairs perfectly with the incredible KNEKT Dome Port KSD6 to further enhance your underwater photography. 
NOTE: The GP4 is compatible with the GoPro HERO3+ and HERO4.
Word on The Street
"Amazing Trigger. Very easy to setup and maintain. Simple to use and very comfortable when taking pictures under water. Works well with the 6 inch Dome." - Nina McIntosh, GoWorx Ambassador, @alohaninalove
Shoot With Confidence – KNEKT Trigger GP4 - $149.99
What's It For?
Like all of their products, KNEKT designed the KTP18 Trigger Pole for use in and underneath the waves. But in reality, the KTP18 dishes out solid GoPro pole shots anywhere thanks to its reliable one-click trigger mechanism that was incorporated into the 18-inch aluminum pole. By anywhere we mean snowboarding, surfing, skating, exploring ancient Incan ruins or just playing around in the backyard.
Unlike the Triggers above (that are primarily for shooting forward subjects like a traditional camera), the KTP18 lets you capture yourself getting in on the action. Its stupid-simple operation lets you do that easier than ever because all you need is one hand to click your GoPro shutter or video on/off button while the rest of you can focus on dropping in and sticking the landing.
Why You'll Dig it…
The simplicity KNEKT brings to this GoPro pole will blow your mind and enable you to capture mind-blowing photo and video of any kind of session. Truly one of a kind, this painstakingly designed trigger pole gives you instant, one-click content capture from an 18-inch pole. Its reliable durability is also a huge plus that'll pay off over the years thanks to its JAGWIRE performance stainless steel cable and its military-grade aluminum and stainless steel construction. Plus, it's salt-water, dust and mud resistant so you can take it anywhere, and its sturdy camera mount design lets you tilt your GoPro 180-degrees and dial in a range of angles. Lastly, at less than a half-pound, you can keep shooting for hours without wearing out your arm.
The KNEKT KTP18 Trigger Pole also pairs perfectly with the KNEKT Dome Port KSD6. NOTE: The KTP18 Trigger Pole is compatible with the GoPro HERO3+ and HERO4 housings only.
Pull the Trigger on this Pole - KNEKT KTP18 Trigger Pole for GoPro - $179.99
What's It For?
The floating, super-sturdy FPSH Handle enables easy photo and video capture of your water-based adventures. Its fully sealed, 12-inch tube provides floatation with your GoPro in case you drop it in the waves while its pole design and tilt-able mount allow high-action selfies as well as standard forward-facing shots. With the ability to expand its length with an optional Pole Section FPS1 (or two), you can get the desired length for capturing any type of aquatic adventure.
Why You'll Dig it…
You'll immediately dig the FPSH Handle's simple, sturdy design, which can handle the roughest days of wave riding or surf photography. Plus, its grippy co-polymer handle provides video stability and confidence with an included tether for extra security. And since the sealed pole section design floats, you can feel comfortable tossing this rig to a friend to film your next wave. Sure it's simple, but as usual, KNEKT designed the FPSH Handle to be the ONE floating GoPro pole you'll ever need.  
Handle the Waves - KNEKT Handle FPSH - $39.99
Screw on one or two of these pole sections to your FPSH Handle to extend it by 12 inches (or 24 inches, respectively) and expand the field of view of your GoPro pole shots. Built with saltwater-resistant aluminum and stainless steel, these sections are strong enough to withstand the biggest breaks while light enough (5.6 ounces) to not weigh you down while swimming. 
Add 12 Inches to Your Handle - Pole Section FPS1 - $25.99
Have any awesome photo or video that you created with your KNEKT gear? Share them with us! Tag us @goworx on Instagram!
(maybe some KNEKT Instagram shots...in a tile or grid?? To encourage sharing) 
What's It For? 
KNEKT's KSD6 Dome Port turns your GoPro into an incredibly simple and effective underwater camera for your surf sessions, snorkeling missions and creative fishing films. It moves the waterline a couple inches away from your GoPro's lens, which removes distortion and eliminates focus issues when snapping over-under photography (split shots, 50-50 photos, etc.). These are the insanely awesome photos that are half above water and half below, and this dome lets you dial in crystal clear snaps of both worlds simultaneously.
It's meticulously engineered dome shape was developed to perfectly match your GoPro's lens optics, and KNEKT did such a good job that the KSD6 Dome Port actually increases your cameras field of view by 30 percent...which lets you capture more with every shot. It also improves minimal focal distance by 50 percent to enhance your capture of close and faraway subjects. So attaching the KSD6 Dome Port will improve your GoPro's ability to capture your adventure whether its underwater, above water or getting the best of both.
Why You'll Dig it…
Stellar optics and unreal images aside, you'll dig the KSD6 Dome Port because it's so easy to install and use with your GoPro HERO camera. Its backing plate enables one-screw, tool-free installation, and once attached you still have access to your shutter button and a view of your LCD screen. Plus, a waterline marker on the back of the dome lets you get perfectly symmetrical over-under photos. 
Lastly, you'll dig how well the KSD6 Dome Port pairs with the KNEKT Trigger GP4, Trigger GPLT and KTP18 Trigger Pole, turning your GoPro into a one-click capture machine fit for surf photography, underwater photography or any water-based adventure. We also hear this dome pairs well with our GoWorx GoKnuckles…
Word on the Street:
"The best thing ever! Two words.... GAME CHANGER!! I love this dome!! I suggest you get one ASAP!! This product has taken my photos to the next next level!! It's great for capturing awesomeness both under and above the water!! KNEKT is an amazing company with so many products!! Go check them out!!" - @_brandonpopa_
"The Dome is perfect! This Dome has taken my photography to the next level. It's diversity allows my photo to have the best of both worlds. I love how easy you can install it on the GP4 trigger system and it's easy to access the button controls while the GoPro is on. Maintenance is easy and all you need to do to protect it is to have the Dome Port Cover (KDC6). - Nina McIntosh 
Capture The Best of Both Worlds - KNEKT Dome Port KSD6 - $299.99
Not to be forgotten, this Dome Port Cover is the easiest way to keep your Dome Port in primo condition and prevent scratches from drops and rough journeys in your camera bag. Just stretch the cushy neoprene over your dome and cinch it up tight. The cover also includes a foam plug to seal off the Dome's GoPro window and keep out dust and sand when not in use.
Protect Your Dome – KNEKT Dome Port Cover KDC6 - $24.99

---
Still need helping finding the ultimate GoPro accessory for your adventures? Head on over to GoWorx.com and check out our top-shelf collection of GoPro, Drone and Mobile Gear guaranteed to take your content to the next level!
How do you use your KNEKT gear? Share with us below or tag us @goworx on Instagram.