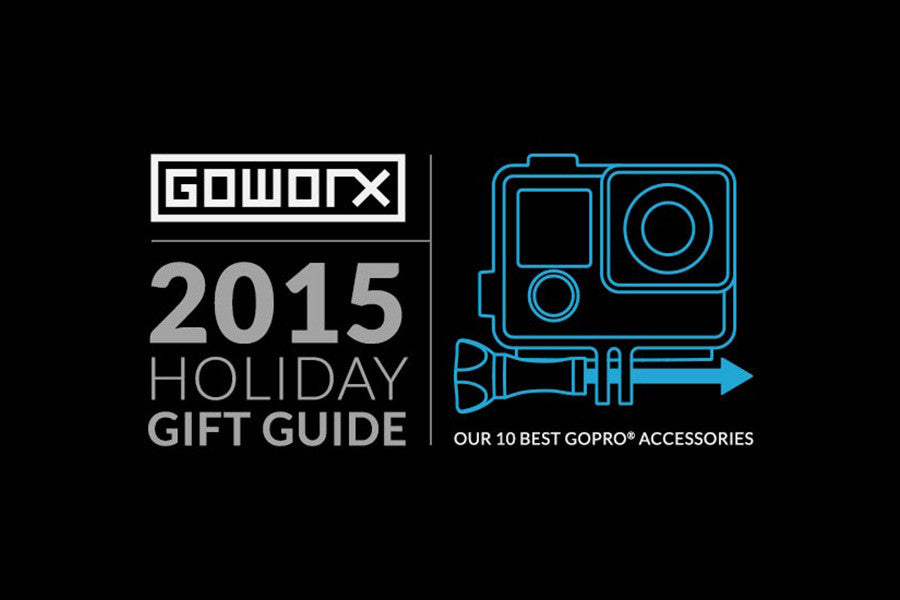 To help you navigate the merry mayhem this Holiday season, GoWorx wrangled our absolute best GoPro accessories into a gift guide worthy of any GoPro guru on your shopping list.
Considering design, functionality and innovation, we handpicked tools that enhance the capabilities of any GoPro HERO camera enthusiast, enabling creativity in ways not previously possible. This year, give them the gift of unlimited content creation when you shop with our designer-curated guide.
---
Strap + Mount = Awesomeness
Wherever there's a strap, there's a new GoPro perspective waiting to be utilized by the Peak Design POV Action Mount. The applications are only limited by your imagination, because you can secure this mount to any strap, belt or piece of webbing less than three inches wide. With this mount clipped to your backpack strap, you can record stable, first-person shots of snowboarding, skiing, biking, ultra speed hiking or whatever gets your blood pumping.
What We Love
We're pretty sure you could rig this up as a GoPro belt buckle…so there's that. We also love the simple slide and lock design that totally eliminates the need for annoying chest-mount straps. Plus, a quick-release button lets you stash your camera while on the chairlift, which is where we spend a lot of our time.
Give em' the POV Action Mount | $69.95
---
Grip it and Rip it
Built for slaying the skatepark, adventure travel or diving deep to rediscover your inner sea creature, the comfortable, "hands-free" GoKnuckles simply secures and stabilizes your GoPro camera. With this incredibly versatile handheld mount, every clip and frame of your adventure-driven life become the brush strokes of your next project.
What We Love
Sure, we designed it, but we still love the feel of its smooth simplicity and its universal, "wearable" versatility during virtually any action sport or adventure. Most of all, we love the GoKnuckles fan love we've received from all over the world.
Give 'em GoKnuckles | $19.99
---
Master the Waterline
Those insanely captivating surf shots taken half above water and half below—those were shot with a dome port like the KNEKT KSD6 Dome Port. Whether you want to shoot surfing, snorkeling, fly-fishing or puppy swim lessons, the KSD6 greatly enhances your GoPro photos at the waterline, ensuring properly focused, undistorted images that never fail to turn heads.
What We Love
The attention to detail in the KSD6 design is downright impressive. It was optically matched for the GoPro HERO camera and moves the waterline away from the lens, eliminating distortion like a champ. It even increases your GoPro's field of view so you get more of the wave in every shot.
Give 'em the KSD6 Dome | $299.99
---
Dive and Capture
When you land the trip of a lifetime and find yourself snorkeling in Fiji, the KNEKT GP4 Trigger is what you need to easily snap photos of every turtle, dolphin, clown fish and unknown creature that swims your way. In addition to enabling steady underwater video, the Trigger transforms your GoPro into a point-and-shoot camera that can quickly capture curious dolphins and schooling fish.
What We Love
Of course we love the trigger mechanism, which lets you activate your GoPro's shutter or video on/off button with one click. Plus, its full aluminum cage protects your camera from nosey sharks and it works seamlessly with the KSD6 Dome Port for unparalleled waterline photography.
Give 'em the GP4 Trigger | $149.99
---
Power Up
A solid gift for GoPro gurus or anyone that hates running out of battery while on the go, the Outdoor Tech Kodiak Power Bank recharges a GoPro up to six times and a smartphone up to four times. Whether heading to a backcountry cabin for a week of freeriding or heading out for a weekend of canyoneering, this power bank keeps your GoPro ready to record whatever goes down.
What We Love
Waterproof, impact resistant and capable of charging power-hungry tablets—What's not to love? Plus, this beast is a great backup for all those what-if scenarios at home, on the road or in the field.
Give 'em the Kodiak Power Bank | $49.95
---
Stickiest of the Sticky
While designed specifically for supreme stick-age to surfboards, the BRLS Removable Suction Mount can mount your GoPro HERO camera to almost any smooth surface. Without attaching permanent mounts or damaging your gear, you can capture great footage from the hood of your hot rod, the hull of your northbound sea kayak or the deck of your priceless custom surfboard.
What We Love
The new and improved design still provides an incredible three-point hold on smooth and slightly curved surfaces, but it's now easier to remove so you can remount it before the next wave rolls in.
Give 'em the BRLS Removable Suction Mount | $49.95
---
Jib for Jibbing
Whether filming yourself or your buddies, the MicroJib dishes out dynamic panning and tilting that translate to massive, eye-popping shots in the halfpipe and dimension-altering perspectives during your run through the jump line. Equally capable on the snow, street or any small-scale movie set, the MicroJib enables studio-quality camera capabilities with your GoPro.
What We Love
We love the internal axle design that operates with just a twist of your wrist. Plus, with a bit of resistance in the gearbox, you're ensured steady, weighted movement. Adjustable length, heavy-duty aluminum and a locking screw…there's lots to love about the MicroJib.
Give 'em the MicroJib | $119
---
Get Low
Kickflips, manuals, bluntslides... in skateboarding all the action happens at your feet. The Original Handle+ lowers the perspective of your GoPro Hero camera so you can dial in the low-angle sweet spot that is the bread-and-butter of skate films. Stable slow-motion follow shots with bumping background beats become your trademark when you let the Handle enhance your skate or snowboard films.
What We Love
The original design that gave rise to GoWorx, we love the Handle's one-piece, camcorder-inspired design that filled a wide gap in the GoPro accessory market. Effective as a handheld or stationary camera base, the Handle is still a GoWorx best seller.
Give 'em The Original Handle+ | $39.99
---
One Pole Fits All
From powder stashes to wave slashes and all land- or water-based action in between, the UKPro Pole 38HDF is ready for any and all domination documentation. Surfers dig this pole because it floats, snowboarders dig this pole because it's lightweight and everyone digs this pole because it gives their GoPro HERO camera the perfect perspective to shoot their wildest, most HD-worthy moments.
What We Love
We love the quick adjustment between 16 and 38 inches as well as the 360-degree mounting options. But we love the sturdy aluminum and bomber, ready-for-anything design the most.
Give 'em the Pole 38HDF | $59.99
---
Filter the Tropical Blues
The bright blue tropical waters you see in Fiji or Maui are fantastic for diving or snorkeling, but not so much for capturing high-quality GoPro video. The SRP BlurFix Adapter w/ CYD Filter remedies that by filtering the bright colors that your GoPro just can't quite process. The result is clear, vivid and color-correct photo or video of your fish-filled dive at the reef.
What We Love
This slip-on adapter accepts all other BlurFix 55mm filters, so you can use it to attach an arsenal of filters. We also love that you can fill the CYD Filter with water to prevent bubbles and ensure unobstructed video of your favorite sea creatures.
Give 'em the BlurFix Adapter w/ CYD Filter | $77