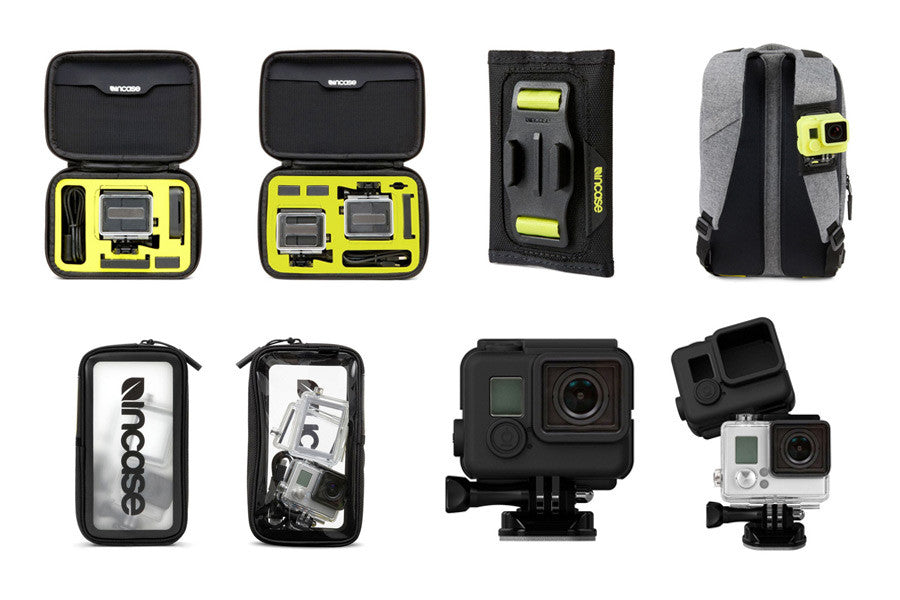 Incase GoPro accessories stand at the pinnacle of design.
Since GoWorx's move toward being an industry hub for the best GoPro, Smartphone, and Drone products in addition to our own, we have strived to include only the most authentic brands. There's a lot of poorly-designed gear out there in the world, and we know you need the freshest high-performance equipment on the planet. Incase fits the bill perfectly, and it is an absolute joy to announce the release of Incase GoPro Accessories on GoWorx.com!
Why Incase?
They are an industry role model for design and simplicity.
A leading brand almost two decades in the making, "Incase is a brand driven by design." They don't just make what they think the customer wants, they carefully design products that strive to perfectly capture the mobility needs and aesthetic of today's creatives.
Support for the lifestyle of our customers.
Originally Incase made products for the Apple computer and phone market. Moving into the future they brought together traditional photographers and action/adventure enthusiasts (like you!) with incredible products. Just like us, they know the adventurers of the world need high-quality, durable, and beautifully designed gear.
The gear.
It just speaks for itself, so let's take a look at the Incase GoPro Accessories now on GoWorx.com
---
With water-resistant 1680D ballistic nylon outer covers and heavy duty zippers tough enough to withstand the wildest rides inside a checked bag or ski pack, the Incase Mono and Dual Kits snuggly fit and fortify your GoPro HERO Cameras and included accessories.
---
Durable ballistic nylon, heavy-duty Velcro and a high-strength plastic mounting surface secure your GoPro HERO camera to a pack while you drop into the bike park, run through the halfpipe, or begin your expedition into the Sahara.
---
Stash your GoKnuckles, extra cables, housings, thumbscrews and other bits and pieces of your GoPro rig inside the simple and sturdy Incase Accessory Organizer.
---
This superbly built silicone case slips right over the standard housing of your GoPro HERO4 Black, HERO3+ or HERO3, protecting your GoPro's housing from scratches (and just generally tricking it out!).
---
The soft, stretchy silicone fits over any GoPro (with housing) and helps cushion it while knocking against other gear in your pack. 
---