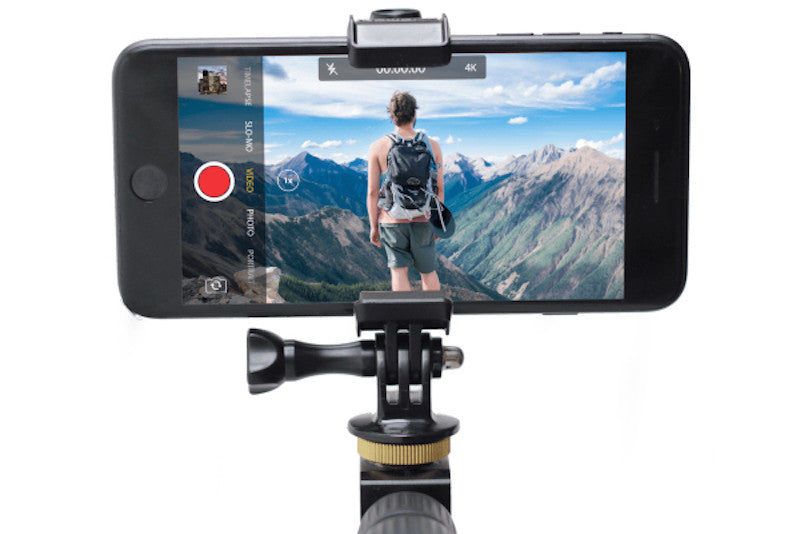 Rotate or tilt your smartphone 360-degrees with this powerful combo from GoWorx and MicroJib.
GoWorx recently joined forces with MicroJib to bring you the ultimate smartphone accessory for capturing professional video with your phone: the MicroJib 2 / FreeRide Combo (& the longer MicroJib XL / FreeRide Combo). Harnessing the reliable vice-like grip of the GoWorx FreeRide Phone Mount and the smooth panning and tilting of the MicroJib GoPro Pole, anyone can now make shareable HD video with a smartphone. Just twist your wrist to rotate your smartphone 360-degrees and capture all the action AND all the scenery.
As you can see, this is no cheap selfie stick, this a pairing of two meticulously designed tools for content creators. 

Want more info? Head to the GoWorx Shop to see the MicroJib 2 / FreeRide Combo OR the MicroJib XL / FreeRide Combo.

Why MicroJib?
The MicroJib 2 (& the MicroJib XL) features a waterproof design that rotates when you twist the pole's grip. You can configure your phone (or GoPro Hero Camera) to rotate 360 degrees horizontally for panning or vertically for tilting shots. This functionality has set MicroJib apart as the best GoPro pole for filmmakers and serious content creators.
The MicroJib 2 easily adjusts between 16.5-33.5 inches (the MicroJib XL offers 22-60 inches) so you can dial in the right shot with your smartphone OR GoPro Hero Camera. Also, it's waterproof and all metal so you know it'll last. Learn more about the MicroJib 2 here.
Want to find the best GoPro pole for filmmaking and action sports? Check out our Ultimate GoPro Pole Buyer's Guide!
Why FreeRide?
Our popular FreeRide Phone Mount has been a GoWorx top-seller since its successful Kickstarter campaign in 2015. It's vice-like, padded clamp secures virtually ANY smartphone with or without a case. And since it was made to attach to any GoPro mount, the FreeRide automatically transforms any GoPro pole, GoPro grip (like the GoWorx GoKnuckles) or other GoPro mount into a platform for creative smartphone video.
Plus, it comes with a 1/4"-20 tripod adaptor so you can attach the FreeRide to a tripod for long-exposure smartphone photography or professional filmmaking with your smartphone. Learn more about the FreeRide here. 
Not what you're looking for? Shop our entire Smartphone Gear Collection.


Boost YOUR Smartphone Photography
Whether you opt for the MicroJib 2 / FreeRide Combo or the longer (up to 60 inches) MicroJib XL / FreeRide Combo, it will certainly give your creative smartphone photography a boost. Just be sure to share all that new creative content with us so we can follow along!
And while you wait for your new gear to arrive, brush up on your phone photography skills with our 5 Smartphone Photography Tips for Better Photo & Video. 
.......

Have epic smartphone photo and video? Tips or feedback? Share it with us below or tag @GoWorx or #GoWorx on Instagram!