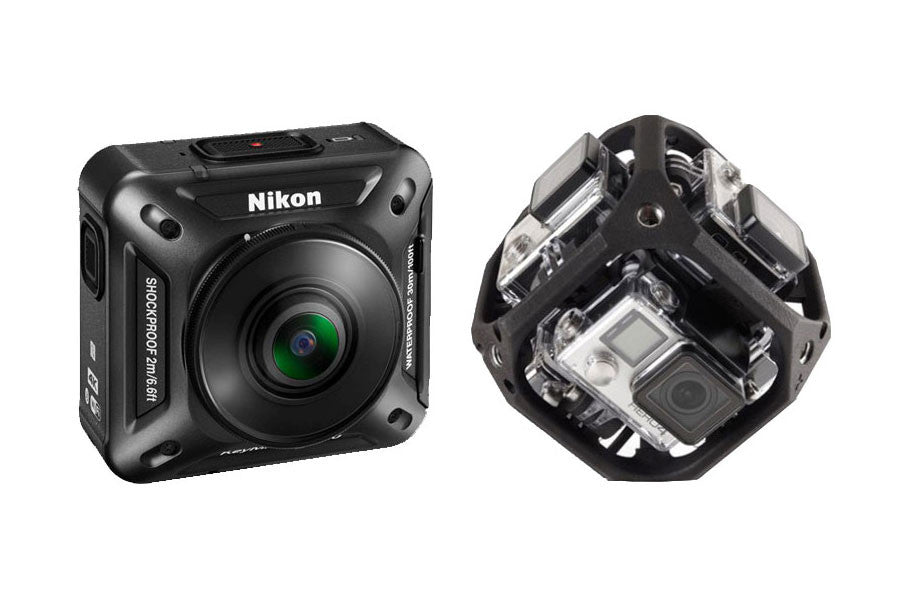 The Consumer Electronics Show (CES) is a hotspot for announcements from electronic manufacturers big and small, so let's take a look at all the GoPro News from last weekend's CES in Las Vegas.
This year's CES saw some exciting announcements for GoPro, but still left a couple big questions for fans and consumers. It's not a secret that GoPro is having a spot of trouble in the markets, but that shouldn't stop anyone from getting extremely stoked over the new gear and projects Nick Woodman, GoPro CEO and founder, and the rest of his world-class team have in store for us.
---
Big News #1:
CONSUMER 360 RIG AND THE SHOWDOWN WITH NIKON
When GoPro bought the 360 video-stitching company Kolor last April, anyone paying attention could see the writing on the wall. It may have taken a while, but our favorite GoPro news from CES is that the company has officially announced a 360 video rig.* The rig is compact, shaped like a ball, and holds 6 GoPros. With Kolor's video software powering things, the idea is you will be able to get out there and shoot as easily as you would with any GoPro, and have usable 360 footage right when you export. No price has been announced but it was mentioned that the 360 rig will be available later on in the year.
It will be interesting to see the overall price and quality comparison with Nikon's new 360 cam, a single unit camera that should stand up to GoPro specs. This will be the first true action camera Nikon has released, and the first time that GoPro and Nikon will directly compete. A showdown of that magnitude could be scary for share-holders of either company, but for us adventurers it can only mean bigger, better, and more affordable products from both. For GoPro a big win or a big loss to Nikon in the 360 cam space could be a very important moment for the company that launched an adventure sports footage revolution.
*this rig is different from the recently announced GoPro Odyssey, a $15,000 kit that uses 16 GoPro cameras and shoots in 8K resolution.

---
Big News #2:
PARTNERSHIP WITH YOUTUBE AND GOPRO GOES VR
During the YouTube keynote conference at CES, Robert Kyncl the Chief business Officer of YouTube invited Nick Woodman, GoPro founder, to the stage. In maybe the biggest piece of GoPro News, the pair announced a partnership between the two companies aimed at bringing more 360 footage to YouTube's platform. GoPro is the top brand YouTube channel, and Woodman has always highlighted the content created by GoPro's users as the true value behind the company. A partnership like this could ramp up 360 video in the consumer space considerably, and it doesn't just stop at 360 video. Nick Woodman, Robert Kyncl and Chris Milk of Vrse turned the conversation to virtual reality (VR) and Woodman seems ready to tackle this new industry as soon as headsets hit the consumer market. Woodman had this to say of VR,
"We're making significant investments." […] "[Virtual reality] does add an entirely new emotional experience that is very meaningful and real and is a way to experience other people's lives and experiences in a way that was never possible before. [It] affects the brain in a way that days or weeks later, when you recount your viewing experience, it becomes difficult to discern if you watched it or you lived it—a little bit of a dream. There's nothing gimmicky about VR."
With consumer headsets for VR like Facebook's Oculus hitting the market soon, a world where you go hit the surf or the pow with a GoPro 360 rig and then your friends can relive the experience with a VR headset halfway across the planet is just on the horizon… and that's awesome.
---
Update:
DEVELOPING SESSION
Session was GoPro's first change of course in camera manufacturing. The tiny easily-used camera was the first time a camera was released by the company that wasn't a standard GoPro. In an interview with Endgadget, Nick Woodman said that many of the Session users say it's their favorite camera. Just like we have seen in the past 6 years with GoPro, we can probably expect a new version of the session to start hitting yearly. While extremely usable, the Session had some design issues noted by reviewers and users, and we are excited to see what future versions look like… let's just hope GoPro avoids mispricing the Session this time, which was a major criticism that ended with massive price cuts.
---
What Was Missing:
KARMA DRONE AND HERO 5
To everyone's surprise, possibly the biggest pieces of GoPro news didn't actually make it into the show. While Karma drone was "officially" announced at CES, as you can see on our blog the Karma drone was announced on web last year. Unfortunately we didn't get a ton of new info about Karma at the show. Maybe the coolest thing said by Nick Woodman about the Karma Drone is that it will probably support older GoPro models right out of the box.
Then, much to everyone's surprise, the Hero 5 didn't show up at all. There are a flurry of rumors going around about 8K resolution, 150 ft diving capability, and some other enhanced features, but we will have to wait for official announcements to comment further.
---
Recap:
Overall it seems that GoPro really wanted to stand strong as a leading pioneer of the 360 video space. This was the focus of their efforts, and the combination of new technology and partnerships with companies like Youtube mean those efforts will turn into another class of incredible products and world-class content from GoPro and its users, like us!
Have you checked out our selection of high-quality GoPro accessories? Head to our store to learn more!