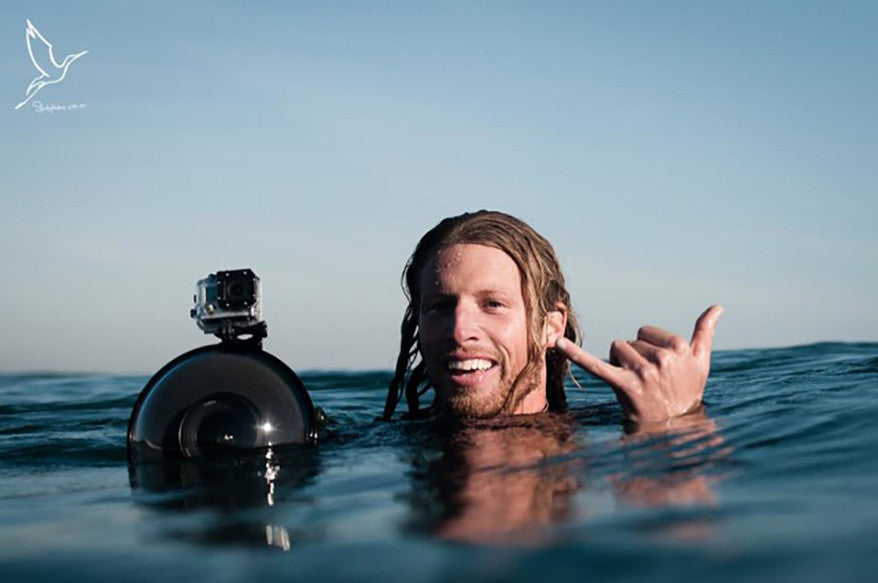 It was our pleasure to catch up with Ocean & Adventure Photographer/Filmer Philip Thurston from Australia. Over the course of a few emails, we were able to pick his brain on shooting with GoPro cameras, the power of Instagram, finding inspiration in waves, and more...
We were first introduced to Philip's work after he took the People's Choice award in a recent Viewbug photography contest sponsored by us here at GoWorx. We were in search of "Unconventional Perspectives", and man does he have those covered!
Here's an introduction to Thurston Photo, followed by a series of questions answered by Philip that you don't want to miss...
"My goal with Thurston Photo is to create beautiful imagery and literature that provokes positive thought and inspires people to see life from a new perspective. Through my experiences and lessons learnt, I've come to know my purpose in life is to inspire faith in others to live a life of fullness with an eternal perspective, and to help others realize their own dreams, potential and purpose that's worth pursuing with all their heart. I strive to be conscience of this with my words, output and actions. I really do enjoy what I do and I think that makes a big difference with the result. I'm known to happily spend hours straight in the ocean or spontaneously launch myself into the wild in the hope of encountering and capturing creation in a new and exciting way. I hope you enjoy the Thurston Photo collection of moments, thoughts and encounters."
What are the most essential tools and rituals of your creative process?
A 50mm and an 8ft wall of water.. Haha it's true though, among all the beautiful things in the ocean, I just can't pass up the mesmerizing power of a heavy slabbing wave, my favorite lens to shoot those with would be the 50mm 1.2 from Canon and I'd have the GoPro set to 1080p at 120fps in narrow mode to focus on the power of the wave breaking.
GoPro vs. DSLR Rig: How, when, and why do you choose one over the other?
I actually have my GoPro mounted to the top of my DSLR rig to get the best of both worlds. When it comes to footage, the quality and ease of use of the GoPro is unmatched for what it is. It's a real luxury to be able to capture high frame rate footage and I enjoy making short behind the scenes clips of my photography with it. The GoPro is also epic for documenting the first person experiences I have when in the field and travelling which is the kind of style enjoy shooting. When it comes to photos, the GoPro is great but I just can't pass up the RAW capability of a DSLR camera. I like to have full control over the data of my image in post.
Besides shooting with your GoPro in 1080p/120fps/Narrow, do you have any other favorite settings configurations?
For sure, the super wide mode on the Hero 4 Black is insane for POV angles or capturing waves and explosions underwater. When shooting photos I like to turn on ProTune and limit the ISO to 400 and bring the exposure down a half stop or so to avoid blown out highlights, ultimately though shooting in good light like in the arvo golden hours thats the best time to get rad footage or shots.
How has the ocean's power influenced you as a person and as a photographer?
I grew up as a body boarder, heavily influenced by my 2 older brothers that both have professional careers. Every time there was a swell I'd be pressured into paddling out into massive beach breaks and the heaviest reef slabs that populate my south coast NSW home here in Australia. I'd be the kid that was taking home wipe out of the day award, everyday. haha I just managed to get myself in the craziest situations which I guess developed in me a kind of immunity to the fear of it and it became more of a fascination, as I got to experience some pretty heavy waves in my time. My passion turned to photography about the age of 17 and naturally because of my up bringing I was just simply fascinated by the breaking wave and the power it generates. We have a lot of waves locally that are quite impressive to watch and photographing them just became a natural attraction to me. Another main reason I started photography was to shoot my brother Glen, he has a super smooth style in the heavy waves and we team up a lot to get the shot when the waves are on.
How important has Instagram been in sharing your story and inspiring others?
Instagram has been a really great tool, not just for me but I think many photographers. It was actually quite funny the transition that Instagram influenced. Us photographers use to kind of live in the shadow of the riders for a long time until social media turned the tables where now it's the photographers that have the bigger audiences and profiles. I'm not complaining haha. I've always had a passion to inspire and encourage others, its kind of built into my personality. I used instagram as a kind of inspiration blog to record all my thoughts and motivational quotes. That's actually where I got a lot of my resource from for my Living Water book I published this year. Instagram is a great way to keep a diary of thoughts and moments while also building a momentum of positive influence as well. It gets abused a bit but if you use it right, its a really great tool to promote a positive life message.
Follow Thurston Photo on Instagram!
What's next for Thurston Photo? Have any rad adventures planned?
I'm really excited to move more into moving images, time-lapsing, short film and telling stories through film and photography. I'd love to use the power of social media to promote healthy messages for the younger generations using the tools of film and photography. It's difficult to get the necessary budget for creative projects like that sometimes but that's definitely where my passion is. Life is an adventure, and I'm keen to get some support on board and continue to have an output of inspiring short clips and images from my travels and experiences.
Do you plan on using your GoPro more in the future work you mentioned?
Absolutely, I love using the
GoPro
to time lapse, in fact almost every time I'm out shooting with my Canon DSLR rig and set up at a spot, I'll set my GoPro up first and get it time lapsing in a cool spot where I won't be interrupting the frame. It's a win win approach.
Any advice for up and coming ocean photographers that are looking to differentiate themselves and craft original bodies of work?
Yes, stay consistent and dedicated, most young people never develop their own style in the industry because they don't stick at it for long enough. Finding your niche only comes after long hours in the water and gradually refining what you shoot by what interests you most when you're out there. At first you shoot everything that moves but after a while you begin to know exactly what you're after. Of course there is always spontaneous moments of beauty but I think spending time in the ocean is the best way to develop your own original style.
Thank you Philip for sharing your time, energy, and work with the team at GoWorx!
Want to see more of Philip's Ocean & Adventure Photography and Films? Visit
Thurston Photo
!