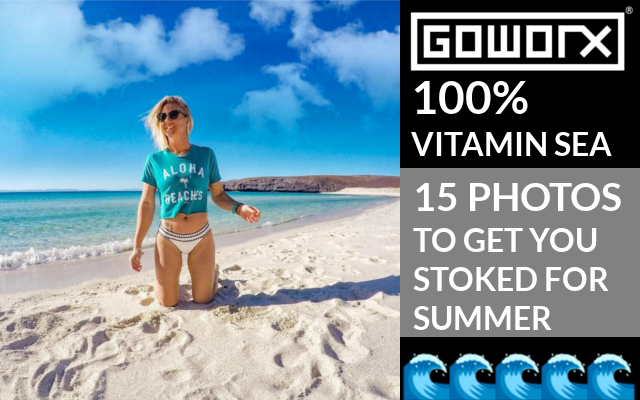 Are you ready for summer? Take the edge off the grey days with a quick trip through our 100% tropical photo gallery featuring some of our favorite travel and GoPro photographers.
From Cali droughts to never-ending Nor'easters…this winter was a doozy. Now that spring is here, we thought you might need a quick shot of tropical blues to get you through to summer. So sit back and soak up some virtual sun and sand in this gallery of awesome GoPro travel photography. 
---

1. The Green Whale
Photo: @mle345
Location: Kelingking Beach, Bali, Indonesia
---

2. Be Back Never...
Photo: GoWorx Ambassador @seattlestravels
Location: Little Corn Corn Island, Nicaragua
---

3. Refresh Yourself
Photo: @offshoreimages
Location: Gold Coast of Australia
---

4. Tropical Pineapple Burst
Photo: @surf06 
Location: Rhode Island
---

5. Too Blue in Bimini 
Photo: GoWorx Ambassador @piercegainey with DJI Phantom 4 Pro
Location: Bimini, Bahamas
---

6. The Breaking Point 
Photo: @all_hi_gyotaku 
Location: North Shore, HI
Shot with the BRLS Removable GoPro Suction Cup Mount, which lets you mount your GoPro to your surfboard without any drilling or damaging adhesives. Check it out here!
---

7. Beach Please
Photo: GoWorx Ambassador @kailua_kat
Location: La Paz, California Baja Sur, Mexico
---

8. Reef Madness
Photo: @biancanov
Location: Oahu, HI 
Shot with our signature GoKnuckles GoPro Handheld Grip. Check it out here! 
The GoWorx GoKnuckles in action. Photo by @brennen_anderson
---

9. Oh Lonely Beach
Photo: @grantstemler with DJI Mavic Pro
Location: Baha Mar, Nassau, Bahamas
---

10. Below the Barrel
Photo: @inspirekauai with GoPro Hero 4 Silver
Surfer: @lyraliger
Location: Kauai, HI


---

11. Moonlight Dive
Photo: @edrxckkrozenjijk (Composite with two GoPro photos blended together)
Location: Aruba
---

12. Pig Out
Photo: @taunvisser with GoPro Hero 5
Location: Pig Beach, Exuma, Bahamas
---

13. Sun Up, Cool Down
Photo: @camvantonder with GoPro Hero 5
Model: @courtneyfitchat
Location: Cape Town, South Africa
---

14. Aloha Beach Naps
Photo: GoWorx Ambassador @alohaninalove
Location: Honolulu, HI
---

15. Swim with a Buddy
Photo: @the_salty_stoke with GoPro Hero 6 
Location: Maui, HI

Want to shoot killer underwater split shots like this one? Check out the new KNEKT KSD6SS Dome Port for GoPro Hero 5 & Hero 6. Check it out here!

The new KNEKT KSD6SS Dome Port in action. Photo: @keyana.poki
Or click here to view our entire hand-picked collection of ocean-worthy GoPro gear!
What do you think? Did this gallery shake off the winter chill? Let us know in the comments!
Be sure to check out these amazing photographers on Instagram, and if you have any great tropical-themed photography be sure to tag us @goworx or #goworx.
---
About GoWorx

We inspire next-level content creation with our hand-picked selection of GoPro, DJI and Smartphone Gear. See how our community creates with GoWorx when you follow us on Instagram, Facebook and read up on news and tips on our GoWorx blog.